Dr. Coomi S. Vevaina is an author who just does not pen pretty words to read, she adds her own magical touch to her crisp writing, which brings life to her books. Parsi Times Reporter Binaisha M. Surti highlights all that happened at this author's book launch.
Dr. Coomi S. Vevaina has written an intriguing and useful book for parents, teachers, counselors and care givers called 'What Children Really Want' to promote practical ways of raising  joyful and liberated children. The launch and panel discussion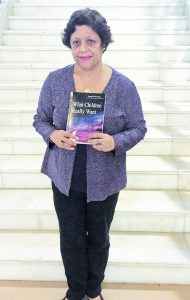 was at the Nehru Centre, Mumbai on 7th May 2016.
An internationally acclaimed educator, literary critic, creative writer, teacher, trainer, storyteller and spiritual educator, Dr. Vevaina has written nine books and fifty-five research papers in revered national and international journals and critical anthologies. The Guest of Honour for the evening, Honorable Vice Chancellor of the University of Mumbai, Dr. Sanjay Deshmukh launched the book and also gave a speech.
Dr. Vevaina introduced herself and made a short presentation of her book. She believes in her dream of creating a world where every child works towards bringing about peace so that the world is a better place to live in. To make this a reality, we need to focus on the four pillars of learning -'Learning to know', 'Learning to do', 'Learning to live together' and 'Learning to be'.
Prize-winning author Margaret Atwood and His Holiness the Dalai Lama have expressed their appreciation for the author in bringing out the importance of the book. The famous Diana Cooper has penned the foreword.
The panelists including moderator Adil Patuck,Professor Kamini Rege MalaRamadorai, Parul Doshi, Jessie Vas, Father Jude, Kajol Menon, Asbanaah Ardeshir, Santhini Govindan highlighted some wonderful aspects of the book.
Speaking to PT, Dr. Vevaina said, "Every child has come into the world with his or her unique gifts. Believe in your children, trust them. Go more by your intuition than anything else when it comes to connecting with children. I suggest that by working on oneself, one is doing a huge favour to children. If one develops a very strong bond, trust and genuine love for them, then they will always come back to you."
 The event concluded with Dr. Vevaina's vote of thanks.
Latest posts by PT Reporter
(see all)