Parsi Times continues to highlight our current-day gems of the community who give us reason to stand tall in 'A Few Good Women'. Senior Correspondent, Delaveen Tarapore and Reporter, Umaima Fidvi have an up, close and personal tête-à-tête with the inspirational 'Queen Of Ghazals', Penaz Masani.
PT: How did it all start?
Penaz: I was born in a close knit family, living a sheltered life with my parents Piloo and Dolly Masani and my older sister, Nazneen. My parents were extremely doting yet strict – that helped inculcate in us great values and embedded a feeling of togetherness and warmth. My mom would make me slog for both – academics and singing, making sure justice was done to both. My dad, on the other hand, was a softy. We travelled the world together, would go for movies and enjoyed our lives. The addition of Dinyar Sarkari as my elder sister's husband made us a complete family of five. I studied at J.B. Vaccha High School and was a hardworking student, always topping my class. I miss those years when I used to run up on stage to collect my certificates and cash prizes on annual days! My love for music steered me towards participating in Indian classical singing competitions, under the guidance of Mrs. Nagarwala. It came as a cultural shock to people around but somehow I felt a pull towards it. I was also very popular amongst my classmates because of my story-telling virtue which eventually helped me become the Head Girl of my school. As a hobby, I initially even learnt Bharatnatyam and completed my seven year course.
PT: How did Ghazal singing enter your life?
Penaz: My father was inclined towards Indian classical music and I loved singing, so I think it was an instant connect! I first sang when I was eight years old and went on to participate in every inter-school singing competition. It was the age of television when my last inter school competition,  'Sur Singar' was aired on DD. This competition, which turned out to be the turning point in my life, was judged by Jaidev, Raj Kapoor and Naushad Ali. I received the first prize. Soon after, a TV producer approached Jaidev and asked if he knew of any new girl who could record a 'bhajan'. That's when Jaidev suggested my name, giving me my first break on TV with a 'Soordas Bhajan'. I got admission in Sydenham College and would go to Jaidevji daily for training. In 1980, Jaidevji introduced me to Madhuraniji who was the then Queen of Ghazals, and it is under her training that I was introduced to the world of Ghazals. The rest is history.
PT: Did you ever feel a little amiss as a ghazal singer?
Penaz: There was a preconceived notion against women singing ghazals, as this is supposed to be a man's arena. How can that be, when it women who best express emotions like love, apprehension et al. My breakthrough career opportunity happened in 1981, when at the age of fifteen, I had sung 'Shame Ke Gazal' for a DD program, under the training of Madhuraniji. 'Music India', (LP record company) noticed my talent and signed me for my first ever album, called, 'Aapki Bazm Mein – Penaz Masani'.
PT: Tell us about your music repertoire in terms of numbers.
Penaz: Till date I have around twenty-eight albums on bhajans, ghazals and popular numbers to my credit. I have sung for almost ten films with Rajesh Roshan, Jaidev, Bappi Lahri, Nadeem Shravan and other prominent singers. My first ever film break was with music composer, Rajesh Roshan for the movie, 'Hamari Bahu Alka'. I have also sung for a Marvadi film and a South Indian film. As time progressed, I went on to perform at innumerable concerts, starting 1981 in Bhopal with Hariharan. I have travelled extensively throughout India for various concerts for The Steel Authority of India, The Indian Army at Ladak, in the naxal areas and many more. I am honoured to have represented India culturally abroad, which include all our neighbouring countries as also countries including Africa, Maturities, UK, USA, Vietnam, Fiji, Soviet Russia, Bhutan and Sri Lanka.
PT: Besides singing, what are the other areas of interest that catch your fancy?
Penaz: I've been a part of the 'Citizens Alliance' group (formed in 2006) for six years now. We work to solve the issue of malnutrition. 47% of children, from the age of zero to six months or even two years, are victims of malnutrition. So we work with great dedication to address the issue. Another issue I stand for is to do away with the social evil of 'female foeticide'. I sang the title track for their campaign called, 'Beti'. I always strive to perform for various causes and charities like NAB, Alert India and of course, our very own ParZor Foundation.
PT: What is the philosophy of your life?
Penaz: I take each day at a time with a smile. I think the key to success is 'humility' and my quest for singing is everlasting. There is no doubt that whatever I am today is thanks to my family and my parent's 'dua'. It is because of their blessings that I have received prestigious awards like 'the Padma Shree' and 'the Gujarat Guarav Award'. Never compare yourself with others as everyone has their niche area of specialization and that's what makes you unique.
PT: How do you feel being Parsi?
Penaz: I feel extremely privileged as being born Parsi. The very word 'Parsi' itself comes across as a beautiful backdrop, thanks to the hard work and sincerity put forth by our forefathers, which brings in respectability worldwide. Being a ghazal singer, I interact with people from diverse cultures and respect them as much. We are an amazing community for all our culture and charitable work. Our youngsters need to get more enterprising in every aspect of life. As a community we are more inclined towards professional jobs as compared to entrepreneurship. We need to get more ambitious and not just be so content with our lives. This will help us scale greater heights, just like our forefathers.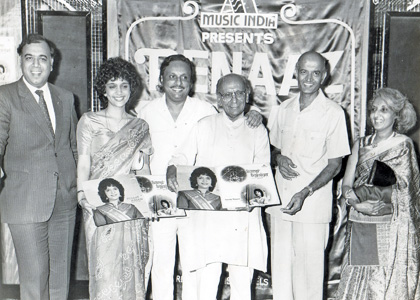 PT: What message would you like to give Parsi Times readers?
Penaz: Parsi Times is a lovely newspaper and through it, I would love to wish all readers good luck and happy times. Though we are a 'minority' there is nothing that can stop us. We have done good, but we need to do better and we need to be grateful to all who respect and shower us Parsis with so much love!
Latest posts by Delaveen Tarapore
(see all)