In keeping with the hot summers, 'Chomp & Cheers' presents a lighter meal this week – an array of delicious dips! Indulge yourself and loved ones with Chef Prodigy – Bezad Dadachanji's special new-age, healthy yet delectable dips!
Relish With Dips
Eggless Mayonnaise:
This eggless mayonnaise is perfect for the vegetarians who don't consume eggs and is also lighter and not as heaty, in keeping with the hot summer!
Ingredients
Flour – 2 tbps; Milk – 1 tbsp; Oil – 3 tbsp; Vinegar – 2 tbsp; Sugar – 1 tsp; Salt; Black pepper powder; Mustard powder – ½ tsp
Method
• In a pan add oil, flour and mix it on a low flame, till the flour is cooked. Add milk and mix it well. Once done, remove and let cool.
• Once cooled, add the remaining ingredients and mix well. Keep it in an airtight container in the refrigerator.
Enjoy.
Tip – You can flavor your mayonnaise with different kinds of ingredients such as Curry Powder, Jalapenos, Red Chilli paste or Avocado.
---
Guacamole
This Avacado salsa is a Mexican delicacy, eaten along with Nachos, Enchiladas and Tamales.
Ingredients
Avacados ripe – 1 to 2; Lemon – 1; Chopped Coriander – 2 tsp; Chopped Onions – 1; Chopped Capsicum – half; Chopped Garlic – 2 to 3 cloves; Chopped Cucumber – half; Chopped Tomato; Red Chilli Powder – ½ tsp; Olive oil – 2 tbsp; Salt.
Method
• Mash the avocados with the help of a fork
• Mix the remaining ingredients and mix well. Add oil for the consistency and check for salt.
Tip – You can enjoy this dip with Bread, Nacho chips, Potato wafers, Pita bread, Cucumber and Carrot crudités and even Pickled Vegetables.
---
Roasted Pumpkin Hummus:
This is a lovely tweek on the traditional hummus and it tastes even better.
Ingredients
Red Pumpkin – 200 gms; Olive oil – half cup; Cumin powder – 1 tsp; Garlic – 5 to 6 cloves; Tahini Paste – 2 to 3 tbsp; Soaked and boiled chickpeas – 1 cup; Honey – 2 tbsp; Lemon – 1; Salt; Pepper.
Method
• Pre heat the oven to 20000 C.
• In a bowl, toss together the cut pumpkin, oil, salt and cumin powder and spread on a baking tray and bake until the pumpkin is soft and cooked through.
• Once cooked, in a food processor mix the pumpkin, chickpeas, Tahini paste, Honey, Garlic and Lemon juice and Blend until smooth. If it is too hard, add more oil to get a better consistency.
Serve and enjoy with Fried or Toasted Pita bread, Nachos, Crackers and Chips.
Tip – Great as a spread for sandwiches, rolls or just itself.
---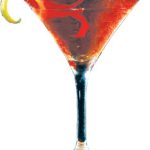 Cheers With:
ROB ROY
This scotch based cocktail is absolutely fantastic and a must for the whiskey lovers.
Ingredients
Scotch Whiskey – 60 ml; Sweet vermouth – 25 ml; Angostura Bitters or ginger ale 2 to 3 drops; Lemon juice to taste; Slice of orange for garnish.
• Combine ingredients in a mixing glass and fill with ice. Stir well for about 30 seconds and strain into a chilled glass.
• Garnish with an orange slice.
Latest posts by Bezad Dadachanji
(see all)