The past two months witnessed much buzz anticipating the big day – HPY's big bash on the 4th of June, 2016, celebrating its 30th or Pearl Anniversary – with a fab musical play 'That One Month', by Meherzad Patel, followed by dinner by Joss, at the Jamshedji Bhabha theatre, NCPA. Thus embodying the very essence of 'parsipanu', HPY presented a fabulous evening which truly outdid all expectations! Parsi Times is pleased to have been a prime Media Partner through this exciting journey!
PT Reporter, Binaisha Surti brings you a detailed account of all the fun and excitement that took place that memorable eve, and also shares an exclusive interview with the woman instrumental behind HPY and its brilliant success – Diana Marfatia.
Holiday Programme for the Youth (HPY) celebrated thirty years of excellence by culminating its Pearl anniversary into an
evening filled with entertainment, laughs, admiration and awe. It all started with a grand musical performance, 'That One Month' written and directed by the talented Meherzad Patel of Silly Point Productions and choreographed by Pearl Tirandaz. The principal sponsors of this fabulous event were 'The WZO Trust Funds' and 'Rustomjee'. The event was put together by the vibrant HPY team, under the dynamic leadership of Diana Marfatia, who have worked tirelessly behind the scenes and ensured to make this programme a super hit. (HPY was the original brain child of Dr. Mehroo Bengalee, who was Mumbai University's first women Vice-Chancellor).
Charismatic compere, Hoshaang Gotla kicked off the eve, welcoming all and sharing how they put together a production comprising sixty- five members. For the past thirty years, over two hundred participants enrol every year for the HPY summer programme under mentor Diana Marfatia. Next, Diana came on stage and spoke of the month long programme run under the auspices of the Bombay Parsi Punchayet and how it is helps the Parsi/Irani youth who have completed their tenth standard by providing them the exposure and direction needed to make informed and goal-oriented career decisions."HPY invokes fond memories of a month that begins with strangers and ends with friendships that
last a life time," she expressed eloquently.
And so started 'That One Month' – a play intending to bring back memories of the thirty days that all HPYites recount as the best moments of their lives. The opening sequence showed 'Freddy', acted brilliantly by the talented Hormuz Ragina, who has been in a coma since 1992 and has finally woken up in the current day. Hormuz brought the character 'Freddy' to life with exceptional dialogues and great singing. Freddy clearly remembers his pals from HPY but is blurry about his own unidentical twin brother, 'Danesh', played by Danesh Irani, known for his impeccable timing as a comedy artist. The highlight of the play has to be the marvellous performance of the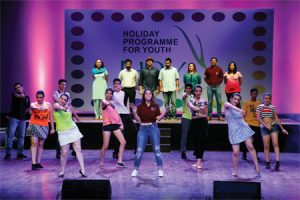 house help, 'Gloria', enacted by the brilliant Pheroza Mody. A fabulous script teamed with the amazing talents of Freddy, Gloria and Danesh left the audience in splits! The story moved back and forth in flashbacks, showing that the kind of memories one makes at HPY are unforgettable and pivotal in shaping your personality and your future.
Being a musical, the play was laced with splendid dance performances choreographed by Pearl Tirandaz, with many well-known classics sung to new, amusing lyrics to suit the theme.
Further, after regaining consciousness Freddie is invited by the HPY team to share his story with the current lot of youngsters, who are indignant and indifferent of the earlier generation, and a challenge in the form of a 'The Young Vs The Old' Fashion Show is organised to see which generation rules. The Fashion Show, choreographed by Khushnuma Daruvalla with wardrobe sponsored by Ashdeen Lilaowalla, was a visual treat for the audience, especially with the 'oldies' exuding much enthusiasm in their hilarious 'tutu' dresses! The rest of the cast also brought the evening to life with exceptional performances from Hormuz Mehta, Peshotan Kapadia, Azmin Mistry Vania, Urveez Kakalia, Johaan
Daruwalla, Thea Shroff, Sajeel Parakh, Darius Shroff, Simran Jehani, Shazneen Arethna and Neville Bharucha. The 'duglis' for dancers was courtesy Dezenzia by Zubin Mehta. The dazzling finale sequence comprised all participants with the melodious singing by Shazneen Arethna.
The show enthralled the audience, ending with Hoshaang thanking all the sponsors and calling on stage Mr. Dinshaw Tamboly and actor Boman Irani, who applauded the team effort, and especially praised Diana Marfatia for elevating the platform that is HPY.
Parsi Times caught up with Meherzad Patel, who said, "The play needed to reflect thirty long years gone by. It had to encapsulate decades of culture, technology, attitude and friendship. That is how we formed the journey of Freddy who wakes up after twenty- four years. 'That One Month' is special as it is a musical, written in English and performed by Parsis."
Adding to this, Danesh Irani said, "I feel privileged to have relived my HPY month after working on this musical. Everyone performed with all their heart. The cast of this play is by far the most talented bunch and I have learnt a lot from them."
"HPY for me has always been home away from home. I have been associated with it since the past fourteen years and it has been a wonderful journey. HPY is one of a kind and therefore another we won't find,'' quipped Hormuz Ragina while singer Johan Daruwalla concluded by stating "HPY was a platform for me to project my talent to the world. It helped mould my personality and further made me what I am today."
The event concluded with a fab buffet by Joss Catering Services.
PHOTOS COURTESY REHAN S. DARUWALLA
Diana Marfatia: HPY Mentor-Speak
On HP…
"HPY has become a part of my life" says Diana Marfatia or 'Dee', as she is loving called by all at HPY. "Being a part of HPY for three decades has been the most positive and exhilarating experience. I feel blessed that I was the chosen one to play this role."
On The Conceptualisation And Preparation for 'That One Month'…
I was sure I wanted to do a spectacular show at Mumbai's best auditorium and follow it up with dinner so that HPY alumni who were present could interact with each other. BomanIrani guided us into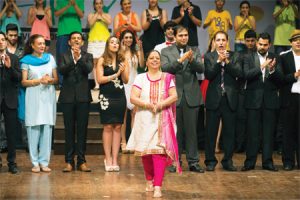 choosing the HPY theme. We then sat as a team, put on our thinking caps and came up with the idea to get Meherzad Patel to write, direct and produce the play. Pearl Tirandaz agreed to choreograph the dances. Next we approached our sponsors, booked the venue and caterer booked, got going with the auditions for the play and after the cast and dancers were finalised, began rehearsals in April and in two months the whole show was set and ready!
The HPY PlatforM…
It is the sheer format of the programme that makes HPY great. It comprises a blend of talks, visits, workshops, competitions, fun, learning, friendships and a lifetime of memories and bonding. Our team of enthusiastic and dedicated organisers run it on a daily basis and all this is topped with the guiding hand and support of our parent body – The Bombay Parsi Punchayet. These are the pillars of HPY's resounding success.
Message To Our Readers…
Today's youth has the potential to take on the affairs of our community and ensure its progress and prosperity. For that you need grooming and time. HPY endeavours to provide some part of that grooming. Be proud that you are a Parsi, give back to our community and be ever grateful to our country which has given us the freedom to thrive, contribute and progress!
Latest posts by Binaisha M. Surti
(see all)