When you look into the eyes of any animal, you see a friend who gives unconditional love and will ask for nothing else in return. Parsi Times Reporter, Binaisha M. Surti locks eyes with many such beautiful creatures aboard ZYNG's trip to the animal rescue shelter at Karjat.
Zoroastrian Youth of Next Generation (ZYNG) organized an adventure trip for all animal lovers to 'Probably Paradise Trust for Animal Welfare' in Karjat on 22nd May, 2016. Owned and managed by Roxanne Davur (lovingly known as 'karjat kaki'), this animal shelter strives to offer a dignified life to injured, abandoned and rescued animals. The one-day trip turned out to be a memorable experience for sixty-two people who garnered a lot of knowledge about animals and more importantly, showered their love, time and attention on these speechless, but not voiceless, souls.
The shelter is home to dogs, cats, donkeys, horses, bulls, a pig and a little baby monkey- all well cared for. Of the animals, Simon the horse and a four month old baby monkey stole everyone's heart. Simon instantly took to all the people around him and loved the attention. It was delightful to see the little monkey offer her back to be scratched and would hold everyone's finger just like a little child.
One of the best features of this shelter is that the animals are all free to roam around in the shelter, they wander about and are given ample space to be at ease. Before entering the farm, visitors were warned not to cuddle or pet the animals immediately. After lunch, people spent time having fun by taking a dip in the nearby stream.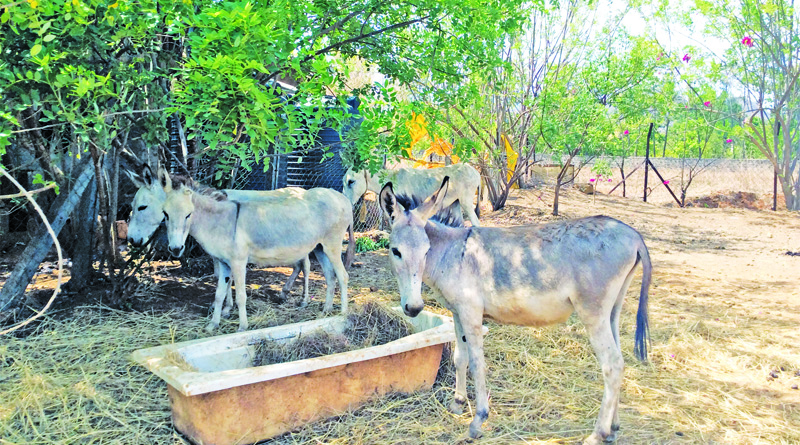 Roxanne Davur told Parsi Times, "My father used to rescue animals and I too do the same. I do not agree in buying and selling them. When animals are brought here, I just let them be and give them their own space. This shelter is mainly for injured and handicapped animals. They are fun to be with and I enjoy their company."
ZYNG organizers Homiyar Sachinwalla, Rashna Lentin, Ruzbeh Hansotia, Khushnuma Wania, Khushnaz Irani, Nilofer Curawalla, Pearl Tirandaz and Khushnawaz Tarapore helped in making this trip a great success.
Speaking to Parsi Times, organizer Homiyar Sachinwalla said, "I saw a video about the shelter on social media. Later I visited it with a fellow ZYNG colleague. It took a month for us to organize the trip. We donated cash, foodstuff, gloves and brooms."
To donate towards 'Probably Paradise Trust for Animal Welfare', Karjat, contact Roxanne Davur at 9623081987
Latest posts by Binaisha M. Surti
(see all)