He pursued his passion and made it his profession, and the result was magic! Meet Arshis Javeri, the man with the proverbial Midas touch in the world of Beauty and Aesthetics, known for his 'wow' transformations. Hardly surprising then that his fan base comprises numerous grateful celebrities and Parsi brides! Parsi Times Special Correspondent Delaveen Tarapore catches up with this Style Consultant and Cosmetic Artist Extraordinaire to share his inspiring and impressive journey with our readers and also provide a few helpful 'Quick Tips' from this sought-after professional's notebook!
PT: Give us a quick snapshot of your amazing journey up to now.
Arshis: I started my career with a hotel management diploma, followed by flying with Jet Ai
rways and Go Airlines for a brief period. I soon began training, but within a few years decided to pursue my passion for aesthetics, style and fashion. Make-up and hair-styling was something that came naturally to me. I chose to pursue this passion seriously and acquired professional training overseas. I also chose to polish my interest in luxury living and over the last year, with a team of professionals working with me from India and overseas, I'm now styling and managing wardrobes for some of India's top celebrities.
PT: Who has been your primary source of motivation?
Arshis: I knew I was set to work with something that wouldn't just be a job but also a lifestyle. I spent an integral part of my life observing a close friend who worked magic in the beauty and hair industry. It helped me understand
the pros and cons of this industry.
PT: What sets you apart?
Arshis: I'm a bit of a toxic perfectionist by nature. The 'finer detailing' is the key to my success. Maybe it's my bawa genetic engineering that makes me eccentric in my detailing and finishing. Like I tell my brides… "I'm not letting you get married till you look perfect!"

PT: What are your other interests?
Arshis: I love to travel! I'm a hardcore shopaholic, but definitely not a hoarder! Since style and art continuously intrigue me, as a hobby I design homes while creating and organizing personalized spaces. Home décor, interiors and design fascinate me.
PT: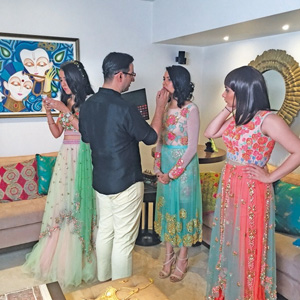 Which aspect about your work gives you the greatest job satisfaction?
Arshis: I love it when someone I have worked on gets complimented or appreciated for how great they look. It's like an underhanded compliment to me. It's my own way of feeling grateful for being empowered with a skill that brings a smile to someone else's face and boosts their self-confidence.
PT: Your best compliment yet?
Arshis: When this child came to her mom and told her, "Mommy, you look like Cinderella"!
PT: What's the future like?
Arshis: I take life as it comes. Why waste time planning, rather than enjoying the 'now'!

PT: What beauty advice would you like to share with our Parsi Times Readers?
Arshis: Keep it simple. 'Less is more' always. Make sure you take care of your skin and hair today. You will be happier tomorrow.
Ladies!! Get Yourself A Free Fabulous Make-Over By Arshis!!
Parsi Times is excited to offer 'Make Over Magic By Arshis Javeri'. Look stylish and get famous! Interested readers are requested to mail us your pics along with your reason for opting for a make over, at contribute@parsi-times.com. Arshis will select the lucky girls/ladies for the Make-Overs and PT will share his magic in the oncoming issues!
Latest posts by Delaveen Tarapore
(see all)