Moroccon Lamb Tagine With Cous Cous
Ingredients:
Lamb / mutton with bones – 600 gms; Apricots – 100 gms; Overnight Soaked Chickpeas – 200 gms; Bay Leaf – 2 to 3; Cloves – 3 to 4; Cumin Seeds – 1 tsp; Cinnamon powder – pinch; Cumin Powder – 1 tbsp; Turmeric – half tsp; Smoked Paprika – 1 tbsp; Tomato puree – 300 gms; Reduced Orange Juice – 100 ml; Preserved Lemon – 1 to 2 (optional); White onion sliced – 3; Garlic cloves crushed– 5 to 6; Red Chilli – 2 to 3 (optional); Salt; Pepper.
Cous Cous:
Cous Cous – 150 gms; Butter – 20 gms; Parsley – 10 gms; Salt; Raisins – (optional)
Method:
In a pan add half a litre of orange juice and boil it until it reduces by half and is thick in consistency. Once done, leave aside.
In a heavy bottomed dish with a lid, add oil and let it heat.
Add bay leaves, cloves and cumin seeds let it heat up. Add sliced white onions and sauté on a medium flame. Add crushed garlic cloves and sauté further more until the onions are translucent but not coloured.
Increase the temperature of the pan and add the lamb pieces and sauté well until there is a nice brownish colour on the meat. Add the spices cumin powder, cinnamon powder, turmeric and smoked paprika powder. Add salt to taste, mix well and reduce the temperature.
Add tomato puree and a cup of hot water if needed.
Throw in the soaked chick peas, apricots and stir well.
Cover with lid and let it cook on a low flame for about an hour or until the lamb is cooked through.
Once done, add the reduced orange juice and stir it well. Taste for seasoning and garnish with chopped coriander.
For cous cous:
empty the cous cous in a bowl and add boiling water just enough to cover the cous cous. Cover it and leave it for 10 minutes. Once done, fluff the cous cous with a fork.
In a pan, add butter, the cous cous, salt to taste. Toss well. Add raisins and chopped parsley. Enjoy with the Tagine.
---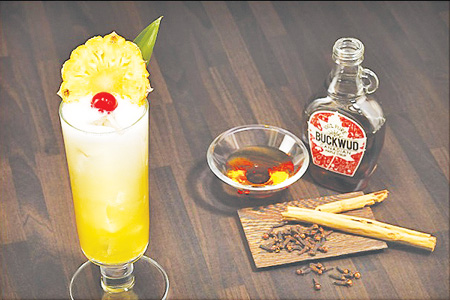 Cheers With Tropical Passion
This is a sophisticated mocktail that combines tropical flavours with homemade maple spice syrup and zingy Ginger Ale.
Ingredients:
Ginger ale – 50 ml; Cinnamon powder- half tsp; Cloves – 2; Vanilla Extract – 2 drops; Fresh Pineapple – 2 Rings; Passion fruit syrup – 15 ml; Maple syrup – 10ml; Lime juice – 15 ml; Pineapple juice – 40 ml; Cherry or kiwi for garnish.
Method:
Add cinnamon, cloves, and vanilla extract to maple syrup and leave to infuse. With a muddler, press down on two pineapple rings in a shaker to extract the juice and the flavour.
Add passion fruit syrup, maple spiced syrup, pineapple juice, lime juice and ice to shaker.
Shake until chilled
Strain over ice into a glass.
Top up with ginger ale
Garnish with pineapple rings or a cherry.
Tip: Ginger ale is optional, you can substitute that with a flavoured soda or just plain soda.
Latest posts by Bezad Dadachanji
(see all)