It was the month of May, hot as hell and all Meherbai's friends were abroad on vacation. "Marerey!  Sorabji Shakespeare was so right about the middle of May being hot and stuffy when he wrote 'Beware The Ides Of May!'", she said.
"Arreyrey!  What 'Gotala Ma Goss' you are doing! It is 'Beware the Ides of March'."
"March hoy ke May, tamuney soo farak parech, as long as the rest of the quotation is correct?" She went on, in her poetic stupor, misquoting once more, "Oh! To be in London, at Minoo Masa's house now, that spring is near."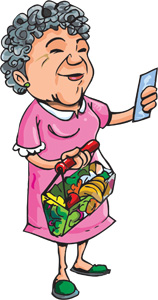 "Forget Spring and do some spring-cleaning around the house", said the man of the house. Meherbai retorted, "So that I can do all the donkey-work (gadhai-vahitru) and you can shamelessly relax on your easy-chair with your Parsi Times, bhopoing (ogling) at Anahita's photo! You dirty old man!  Why can't we go on a vacation like other couples?"
"You think money grows on that huge tree in the middle of Cusrow Baug's central lawn?"
"Don't teach me. You have more than enough in your bank which you fling on your daily beer, cards and the weekly races. It's just that you are kanjoos, makkhichoos, lemon juice, orange juice. Here, read this Thomas Crook advertisement."
"Aareyrey! Not Thomas Crook but Thomas Cook, don't keep saying 'Crook' or else they'll slap a notice of defamation."
"Like I am scared of a legal-notice from a cook named Thomas! Here, there is another vacation advert of FOX and KINGS."
"Not Fox but Cox."
"Fox, Cox or ox, tamuney soo farak parej? Just take me away from this Mumbai's heat and routine life of cooking, cleaning, sewing and arguing with you."
Between you and me, even Meherwanji was fed up of the heat and so it came to pass that he organised a holiday of 5 days and 6 nights to Abu Dhabi. Meherbai's best friends, Goolu Gossip, Freny Fatakri and Najoo Malai-nu-khaju strongly advised her to buy a burkha because in certain places in Abu Dhabi, like the Grand Mosque, it was compulsory to wear one.
Meherbai did just that and to surprise hubby dear, she wore it and rang the doorbell. Meherwanji refused to open the door asking, "Mohtarma, kaun ho tum aur kya mangta? The boss of the house has gone shopping!"
"I am the boss of this house", said Meherbai, lifting the veil and revealing only her eyes through the burkha like Sadhana in the 1963 movie 'Mere Mehboob'.
Meherwanji was zapped! It was truly a 'Mere Mehboob' moment. He said, 'Valaah! Subanallah! Kya Baat Hai Meher Begum'
'Salaam valey kum!! Mera paisa shopping mein goom'
By the way, are you going for a fancy dress party?
Meherbai retorted, "'Valey Kum Salaam' and this burkha is a requirement for the number one tourist attraction in Abu Dhabi – The Grand Mosque!"
For sometime thereafter, things were peaceful but then, again there was 'Kaklat' in the 'Saklat' household as the boss opened her mouth, "Will they take us for a ride in an Augusta chopper since we have paid through our nose?"
"No dear."
"Why not?  It's the latest in aviation. We keep hearing the name all the time on TV."
"That is in a different context, my kaleja. It is as dangerous as the Bofors."
Meherbai was not the one to keep quiet for more than five minutes. "Have you seen my Panama-file?"
"What Panama File?"
"The one I file my nails with. It says 'Made in Panama' on it."
Thereafter, Meherbai started her packing. Meherwanji was aghast on seeing useless things being put in the suitcase. Meherbai was packing all the things she could lay her hands on while Meherwanji kept unpacking all the unnecessary things behind her back. At times he got really exasperated when the bags wouldn't close and thundered, "Popat nu Pinjru bhi pack kar".
"So our poor pretty Polly can suffocate and die?  We'll carry Polly in his cage by hand." Meherwanji was utterly shocked as he had mentioned about Polly only as a taunt to Meherbai. Thereafter he explained to Meherbai that regulations do not allow tourists to carry birds in planes.
Meherbai was in a dilemma. Who would take care of Polly for five days? She then approached next-door senile Soonamai, their 90 plus neighbour, who first thought that Meherbai wanted her to keep Meherwanji for five days. She flatly refused. Her argument was that she was a confirmed spinster all her life, married to her career and hence couldn't stand a man around her, leave alone tolerate him. When things were properly explained to her, she said "Hoon Polly ne raakhas, Meherwan ne nahi!!
The D-Day finally arrived and the couple zoomed off on the 20th of May saying "Goodbye, goodbye" to their entire building at 8 pm. And then, like in the second-half of a Hindi film, tragedy struck. They were back after midnight and arguing so loudly that, one by one, everyone in the building woke-up with, "Soo Thayun? Soo Thayun?" Senile Soonamai asked from her window, "Abu Dhabi Fari Ayan?"  Mani Mastani and a teenager joked, "Photographs Parya Key?"
"We don't want to talk about it", said the flustered couple. At least they agreed on something and were united in their views for once. What actually happened was that at the airport they were told that they had missed their flight by a long-shot. They had confused their am and pm on the air-tickets and their plane had already reached Abu Dhabi.
The couple agreed that they won't tell the truth to the neighbours and become the laughing-stock of their whole colony. So whenever anybody asked why they never made it to their dream-vacation, they unitedly said, "We missed our Polly-Dikro too much."
The rest of the summer-days were spent by this loving couple seeing Abu Dhabi on their TV travel channel while eating chilled mangoes and drinking cold lassies in the comfort of their air-conditioned home. It was the Best Vacation Ever!
Latest posts by Ruby Lilaowala
(see all)