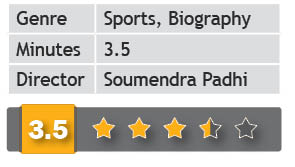 It was a term originally coined for cricketing greats such as Bradman, Gavaskar and Tendulkar. Budhia Singh, at the age of four, earned the epithet, 'The Run Machine', but with a literal connotation.
Timed to release during the 2016 Rio Olympics, for which Budhia was trained and slated to run, the film is a sincere attempt at portraying the life of four-year-old Budhia, who was sold for a meagre Rs.800/- by his mother.
The film begins in 2006, with Biranchi Das (Manoj Bajpayee) who along with his wife runs a Judo academy with residential facilities for 22 children. A dedicated and sincere coach, he discovers Budhia and spots the lad's running abilities when the latter is admonished and punished one day. Being a local activist, Das knows the right men and moves, and utilizing it all to the maximum, pushes for the boy to earn fame and glory for Odisha. But Das is held answerable when, in the sweltering heat of 2006, Budhia was coaxed to run 65 km in just seven hours. Collapsing barely five km short of the attempted 70 km run, the guru and disciple attracted worldwide attention.
And where there is glory to be found, political machinations cannot be far behind. Director Padhia lays it all before the viewer—was Das guilty of exploitation, or was he hankering for personal fame? Or was he an upright, dedicated and sincere coach?
The film attempts to stay true to life, with accounts of the lad's feats and real life footages interspersed (PT Usha commenting on Budhia). The casting, too, is perfect. Bajpayee is brilliant as Das, the coach obsessed with Budhia, even at the expense of his wife and his other students, while Mayur Patole acts well and was a natural choice for Budhia. Where the film seems to falter is the Odisha obsession. The film shows the state's publications projecting larger-than-life stories of the boy's exploits. In real life, the national dailies too had played a pivotal role in chronicling Budhia's achievements, a move which had attracted the international media and had generated favourable —and adverse —publicity.

Latest posts by Hoshang K. Katrak
(see all)