Chomp With Bhakra!
Ingredients:
¾ cup Whole wheat flour; 1 cup Flour; ½ Cup Semolina; ½ cup Sugar; ½ cup Ghee; 1 Egg; 125 ml Toddy mixed with 1 tsp sugar; 125 ml Warm water; 1 tsp Cardamom and nutmeg powder; Oil for deep frying; Salt – to taste
Method:
Sift flour, semolina, whole wheat flour, salt and nutmeg and cardamom mix. Beat sugar and ghee together until the sugar has dissolved. Now add egg and beat well. Add the flour mixture, mix well and add the toddy mixture and work the mix till it forms a stiff dough adding water to the mixture. Cover the dough and let it rest in a cool and dry place for atleast 45 minutes to an hour, till the dough has risen. Now roll out the dough and cut quarter inch pieces using a biscuit cutter or a knife. Get the oil ready for deep frying. Make sure the oil is not too hot, otherwise your bhakras will cook
from the outside and stay raw from the inside. Drain the bhakras on a tissue paper and let rest for 5 minutes. Once cooled, store in an airtight
jar.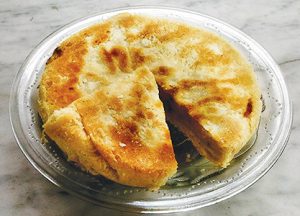 Chomp With Daal Ni Pori!
Ingredients:
For Dough: 2 tbsp Fine Semolina; 3 tbsp Ghee; ½ tsp Salt
For Maan: 4 tbsp Flour; 3tbsp Ghee
For Filling: 2 Cups Channa Dal; 6 tbsp Sugar; 60 gms Almonds; 40 gms Charoli; 40 gms Sultanas/Raisins; 1 tsp Cardamom Powder; 1 tsp Nutmeg Powder; 1 to 2 tbsp Rose Water; 2 tbsp Ghee
Method:
Wash the dal thoroughly under cold running water – about 2 to 3 times. Soak the dal in hot water and keep aside for atleast an hour. Place the dal in a pressure cooker, cover with water and cook for 2 whistles. Once done, drain and mash into a smooth paste. In a pan combine mashed dal, ghee and sugar and cook on a low flame until the mixture is thick and all the sugar has dissolved. Cool and add remaining ingredients and mix well. To make dough, sift flour, salt and semolina. Add Ghee and rub well into bread-crumb texture. Add water and mix to make a soft dough. Once done, let it rest for 5-10 minutes in the fridge. To prepare maan, heat ghee and add flour, mix well to form a paste or a roux. Divide dough and maan into four equal parts. Roll out each dough piece into a round shape. Spread maan on top of each and place each of them on top of the other. Now spread filling in the center, pick up the sides of the dough and cover the filling completely shaping into a round ball. Press down with your finger very gently making sure the sides don't open up. Use a rolling pin to make it a even surface (very gently). Wet the edges of the pori and close the openings on the dough. Bake in a preheated oven at 1800C for 20 to 30 minutes, until the pori is cooked through. Make sure there are no raw flour marks on the surface of the pori. Also ensure the chana dal filling is completely cooled before you start rolling, otherwise the ghee in the dough will start melting and it will be very difficult for you to handle the dough.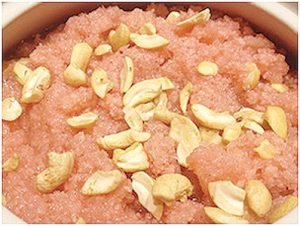 Chomp With Kopra Pak!
Ingredients:
100 gms Freshly grated coconut; 100 gms Sugar; 2 to 3 tbsp Cream; A pinch Nutmeg powder; ½ tsp Cardamom Powder; 2 to 3 drops of Pink food colouring; 2 to 3 drops Vanilla Essence; 2 tbsp Butter /Ghee; 30 to 40 gms Mixed Nuts
Method:
Start the process by greasing a tray with little butter and leave aside. In a pan, add ghee, add grated coconut and sugar and put it on a low flame and let it heat gently, stir constantly using a wooden spoon for about 4 to 5 minutes. Now add cream and mix well till the mixture leaves the sides of the pan. Add vanilla essence and a few drops of the food coloring. Once mixture is cooked mix cardamom powder, nutmeg and the nuts. Transfer the mixture to the greased baking tray and spread it out evenly along the tray. Let cool and then transfer into the fridge to completely cool and set.
Chomp With Parsi Malido!
Ingredients:
40 gms Almonds; 40 gms Chopped cashew nuts; 20 gms Raisins; 200 gms Ghee; 50 gms Gram Flour; 50 gms Semolina; 50 gms Whole wheat flour; ¾ cup Milk; 200 gms Sugar; ½ cup Water; 2 Eggs; 1tsp Vanilla essence; 8 to 10 Cardamoms; A pinch of Nutmeg powder; optional 30 gms Orange zest;
Method:
Slice the almonds and cashew nuts and keep aside. In a pan add about 2 tbsp of ghee and fry the nuts in the ghee and keep it. Mix the wheat flour, semolina and gram flour with the rest of the ghee, milk and keep aside for approx half hour. Now cook this mixture on a pan on a low flame with a wooden spoon. Keep stirring the mixture until the mixture thickens and becomes light brown in colour. Cool and keep aside. For the sugar syrup, bring sugar and water together and heat the mixture until the sugar melts and caramelizes to a light brown colour. Mix the sugar syrup with the malido mixture and further cook until the mixture thickens stirring constantly. Take off the heat and let cool before adding the eggs, add eggs one by one stirring constantly. Add half the nuts and raisins, vanilla essence, cardamom pods, nutmeg powder and orange zest and mix well. Garnish with the rest of the nuts. Refrigerate in the fridge for atleast 3 hours allowing the malido to set a little bit. Enjoy! You can have the mixture warm also.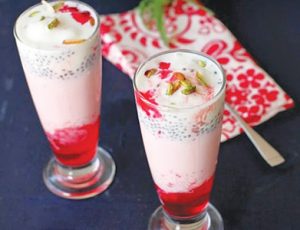 Cheers with Falooda!
Ingredients:
1 packet Falooda Sev; 2 cups Milk; 2 tbsp for every glass Rose Syrup; 1 tsp Tukmuria Seeds; Pistachios for garnishing; Vanilla Ice cream or any ice cream of your choice.
Method:
Boil the sev in water for about 10 – 15 minutes or until they are nice and soft. Once done, strain and cool with a few cubes of ice. Boil the milk in a pan and keep aside. Take a glass; add a tbsp of the sev, tukmuria seeds and rose syrup. Top with milk and a big scoop of vanilla ice cream. Add another tsp of rose syrup and garnish with chopped or sliced pistacios. Mix well and enjoy.
Latest posts by Bezad Dadachanji
(see all)