Not so long ago, the two areas that marked the prowess of 'Parsipanu' were in the field of Body-building and Entrepreneurship. India's top fitness expert and founder of the country's premiere fitness institute and academy – K 11, Kaizzad Capadia, encapsulates both these areas and shares an inspiring account of strength training of the mind and the body in this stirring interview with Parsi Times.
PT: You've worked your way into becoming one of our community's most successful entrepreneurs and India's leading fitness expert and educationist today. Share your inspiring journey with us.
Kaizzad Capadia: In 1987, I was a 15 year old 49kg skinny kid, hell bent on proving that I was not as weak and puny as I looked. I had an obsessive need to challenge my strength on any object. If an object looked heavy then I had to find out if I could lift it! My obsession with strength led me to the gym and I instantly fell in love with the weights. The first day I worked out in a gym is imprinted in my mind – 15th May 1987, post my SSC Board exams. The obsession continued through college and I competed in many Body building and Power lifting competitions. Winning some, losing some, I always came home with a medal at the very least. I became a nationally ranked bodybuilder but surprisingly, I was the only Bawa in a sport that was once dominated by Bawas.
I was an incredibly curious kid with an intrinsic desire to know the most optimal and efficient way to do or achieve something. Just that some workout or diet works and gives results was never good enough for me – it had to be the best, fastest and most effective way, and the results had to be the best possible results. This is what drove me to books and I started devouring information. Application of knowledge gained from books on the gym floor was also something that came from within. This built my acumen in the science of building the body, getting stronger and losing fat.
Another trait that got me to where I am today was this burning need to share exciting information about what I had learnt – I was notorious for giving unsolicited advice at every opportunity I got, teaching via examples and getting increasingly noticed – this also got me thrown out of a lot of gyms, but it benefitted those I advised!
My parents were very supportive and trusted me. In fact, my mother, applied on my behalf for Tata's Sports Quota, to the late MD and Chairman of Tata Steel, Rusi Mody and had me representing them as a Competitive Sportsman at a salary of Rs. 3000/- which relocated me to Jam-shedpur. But I returned after a year as I couldn't take my body building to the next level staying in Jamshedpur. Once again my mother sprung into action and approached Madhukar Talwalkar (the scion of the Talawalkar Family), the man who single-handedly started the Indian Fitness Industry. He recognized my talents and made me India's very 'First Professional Full Time Personal Trainer'. My first clients were the illustrious Bajaj family and went on to train almost all the industrial families in South Mumbai – the Birlas, Singhanias, Garwares, Khataus, Narangs, Modis, Mariwalas, et al, upto 1999.
In 1999, 2 of my fittest clients, Anuand Haroun Yusuf, asked me if I would consult them in setting up a commercial gym in their vacant premises in Worli. This marked my debut as a Gym Set-Up Consultant and so was born my first project, 'Exert' – a landmark gym, the best in the country at the time.
After running it for 3 years, in 2003, I decided to start a consultancy firm for gym set-ups. I partnered with a very seasoned businesswoman – Devaki Khimji and established K11 Fitness Management Co. Pvt. Ltd. 'K' was the common letter my name and Devaki's surname started with, and at that time we had a dedicated staff of 11 wonderful people – and thus was born 'K11'. Today, we have more than a 111 employees, and our brand is synonymous with the 'Scientific Approach to Fitness' and'Fitness Sciences Education' in India.
We soon figured that the biggest challenge lay in finding qualified human resource. Everybody we hired needed a month of intensive training and if they left the job, it was difficult to keep replicating the course for a couple of new recruits. We also needed to supply the gyms we set-up with qualified trainers. This led Devaki to think of starting an Academy especially as teaching Fitness Sciences was my forte. And that's how The K11 Academy Of Fitness Sciences was born.
13 years later, we are the premier academic institution in the Indian Fitness Industry with Pan-India presence, assured for quality by the UK based, Global Educational conglomerate Pearson (the only Educational Institute in the Indian Fitness Industry to be 'Pearson Assured') and we are the funded partners of the Government through the National Skill Development Corporation (NSDC) under the Union Ministry Of Skill Development and Entrepreneurship (MSDE). Today, all reputed gyms, gym chains, international gym franchise chains, rely on K11 for qualified Human Resource! Over the next 2 years, K11 education will be globally accredited and recognized, thus ensuring jobs to K11 Certified Fitness Professionals anywhere in the world!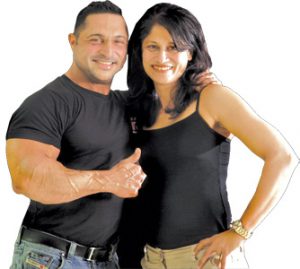 PT: What is your definition of 'healthy'?
Kaizzad Capadia: So glad you asked me this question! People often confuse 'health' with 'fitness' considering them to be synonyms, which is wrong. Health is a physiological state meaning 'normal functioning' of the body. If all pathological values are normal, you're 'healthy', but 'fitness' is the ability to perform physical tasks beyond what is expected from a normal human being. If a 50 year old looks and functions like a 50 year old, then in all probability, he or she is 'healthy'. But if that 50 year old looks and functions like a 25 year old, then we have a very 'fit' human being and if a 50 year old looks, behaves and performs like a 70 year old then we have a very 'unfit' individual and ironically such an individual could be healthy at the same time! As a Fitness Educationist, I want to inspire people to be ambitious in goals related to their bodies. Aim for fitness, as aiming just for a healthy body doesn't make you 'fit'.
PT: Have promoted the "Body Building Lifestyle as the only true anti-aging pill". Explain
Kaizzad Capadia: The Body Building lifestyle is all about building and preservation of Lean Body Mass (Muscle, Bone Density), minimization of subcutaneous body fat, increasing musculoskeletal strength, endurance, flexibility and cardiovascular endurance. This is achieved by giving equal emphasis to strength training, cardiovascular exercise and stretching, effectively combined and complimented with body building nutrition. Body Building is the only thing that will stave off age related degeneration and thus muscle loss and keep the fat at bay, thus keeping us leaner. You want to be a lean mean machine at 50 & 60 and through your 70s and 80s then you better be Body building! Have a look at Sylvester Stallone who just turned 70! Seeing him will make you understand how Body Building is the ONLY thing that will preserve youth!
PT: What would you consider some of your best achievements to date?
Kaizzad Capadia: To see my K11 students doing well in life, their gratitude towards my school for putting their lives on track, is my greatest achievement and provides me great satisfaction. It's a fab feeling to know that I'm making profits while providing honorable livelihood and direction to the youth. Another one of my greatest achievements is popularizing strength training and the body building lifestyle amongst fitness enthusiasts in India.
PT: What does 'Parsipanu' mean to you? How has the role of Parsis as fitness enthusiasts changed over the years?
Kaizzad Capadia: Parsipanu – apart from standing for honesty, integrity, strong morals, ethics and principles, cleanliness, tastefulness – also at one point in time exemplified the physically strong, athletic Aryan genes. Body building, weight lifting, martial arts, cycling and sailing were dominated by our strong, athletic, genetically gifted Parsis during the 1960's.We were also the leading entrepreneurs and philanthropists. Now we seem to be more about being the recipients of philanthropy rather than being the philanthropists. Both professionally and physically, we have suddenly become a lazy bunch. Instead of constantly bickering about our dwindling quantum, let's focus on the dwindling quality! We were always a minority, but we stood out hugely. We need to wake up. We may not go extinct, but we sure seem to be on our way to becoming insignificant.

PT: What guidance would you give to those who wish to make it big in the Fitness Industry?
Kaizzad Capadia: Get educated and keep educating yourself and gaining knowledge – always have a thirst to know more. More importantly, apply all that you learn; and most importantly, lead by example.
PT: What message would you like to share with our readers as we approach the start of a New Year?
Kaizzad Capadia: Turn around your physical ability while you still can. There will come a point of no return and sometimes, that point is far from death – dooming you into living a life that is worse than death! If you decide to not accept your present state, whatever you plan to do… don't wait for New Year… don't wait for anything!
Latest posts by PT Reporter
(see all)