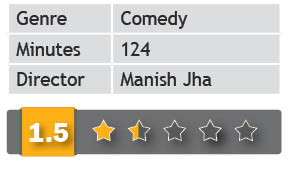 Whatever happened to the winsome comedies starring Boman Irani and Arshad Warsi, two of our most gifted comedians? That they both require a good script is stating the obvious—the Munnabhai films, Jolly LLB, where they shared screen space.
Arshad Warsi is Michael Misra (yes, we are told the 'h' is absent), who is a wannabe village goon—a bumbling 'bhai'. It is 'luv' at first sight when he meets 'gaaon ki gori' Varsha Shukla (Aditi Rao Hydari) as a teenager. Her broken, faltering English, especially the way she utters 'hello' is music to his ears and he's infatuated with her. MM is idolized, not in the least by Half Pant (Kayoze Irani) who shadows him 24/7.
Luv letters are exchanged between Misra and Varsha, and the romance begins to bloom. And when Varsha serves MM an ultimatum 'mend your ways, or I go mine', the bumbling goon from Patna, in order to reform himself turns himself in and is banished to 'Kala Pani' from where he escapes.
What follows is zany comedy, definitely not worthy of a Boman-Arshad pairing. Arshad Warsi looks lost in this film while Aditi Rao tries hard to look her part—that of her struggling Bollywood actress. Kayoze's film career would barely be helped by such insipid roles. The twist in the tale at the end, however, is the saving grace.
Director Manish Jha, who's made some award winning films, fails in this half-baked comedy.
And yes, Boman Irani! In the limited and intermittent screen space he was given, he's given his best. If only he was given more meaningful roles…

Latest posts by Hoshang K. Katrak
(see all)