For Delhi-based Shoma Beramji, love for craft and creativity stemmed since childhood and she further fuelled it by equipping herself with various degrees as a commercial artist, visualizer and an interior designer. Being a full-time mum of three girls, Shoma began 'artbugindia', a home-based business in quilling as a craft artist, and over the past six years has been selling her products in India, Dubai, Sri Lanka and USA. She has held an exhibition at the Delhi Parsi Anjuman and has been teaching her craft in Delhi NCR, Mumbai and to a wider audience online. We feature Shoma this time in our column, 'PT Push', which endeavours to support all in our community who are industrious entrepreneurs and could do with a little "push"!
PT: Tell us a little about yourself?
Shoma: Having been born and brought up in Delhi, I was interested in art and drawing since childhood. I'd draw on walls and floors, and spend most of my time decorating the class.  Post my 10th Board exams, I took up a 3-year diploma course in Commercial Arts and simultaneously pursued MA in English Literature. I worked as a visualizer / graphic designer, and further went on to study interior designing and animation, to boost my passion for creativity and art. I founded 'artbugindia' in 2009, and began selling my quilling products under this banner. However, it was only after my exhibition at Delhi Parsi Anjuman which provided me with immense exposure, that I chose to take this up more professionally.
PT: How did you get introduced to the world of craft and quilling?
Shoma:   Being a mother of three, I would hardly get time to myself. One day in 2009, my supportive mum-in-law, an art lover herself, got me a set of quilling tools and some art material to try out. Initially, it felt new and different, but soon I figured things out and began designing handmade cards, invites, albums and numerous home-made decor articles.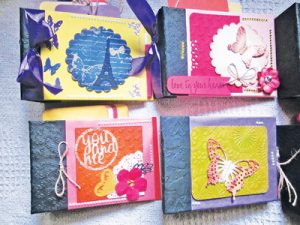 PT: How do artbugindia's products and services stand out from the rest?
Shoma: I provide multiple options in products using decoupage, sospeso, thai clay flowers, paper flowers, stamping and inking, personalized gifts, album and scrapbooks and fabric painting. My art extends even to an academic level as I also teach these unique forms of art. I specialise in making stamps for festivals, like Navroze, Diwali, Holi and Raksha Bandan, which can be used as block printing on envelopes and on your own hand made greeting cards and save up on time and efforts.
PT: What's in store in the future?
Shoma: I wish to teach this form of art to our future generations and make them explore this arena to the fullest. My aim and goal is to conduct more classes especially for our talented and creative Zoroastrian Community.
For further information about artbugindia's creative pieces or art classes, email at
artbugindia@gmail.com or call/message on (0)8860407996. You can also visit her blog at artbugindia.blogspot.in or Youtube Channel: shoma beramji
Latest posts by PT Reporter
(see all)