Kosha Mangsho
A spicy and flavour mutton curry that boasts of the flavors of Bengal
Ingredients:
750 grams Mutton on bone, cut into pieces; ½ cup Yogurt; 2 tsp. Garlic paste; 2 tsp. Ginger paste; 1 tsp. Cumin powder; 1½ tsp. Coriander powder; 1 tsp. Garam Masala powder; 1 tsp Mustard oil; 2 large Onion finely chopped; 2 + 1 for garnishing Green chillies slit; 1 cup Fresh Tomato puree; 1 tsp. Red Chilli powder; 1 tsp. Sugar; Salt to taste; 1 large Potato peeled and cut into half.
Method:
Take mutton in a bowl. Add yogurt, 1 tablespoon garlic paste, 1 tablespoon ginger paste, ½ teaspoon cumin powder, 1 teaspoon coriander powder and ½ teaspoon garam masala powder and mix well. Refrigerate overnight for best results or 2 hours is also fine. Heat mustard oil in a pressure cooker till it reaches smoking point. Add onion and saute till it turns golden. Add remaining garlic paste and ginger paste, mix well and saute. Add green chillies, mix and saute. Add tomato puree, mix well and saute for 3 to 4 minutes. Add remaining coriander powder, cumin powder, garam masala powder and red chilli powder, mix well and cook for 2 to 3 minutes. Add marinated mutton and mix well. Add ¼ cup water and mix well. Add sugar and salt, mix well and cook on medium heat for 10 to 15 minutes. Add potato, ¼ cup water and mix well. Cover and pressure cook for 5 whistles. Serve hot garnished with slit green chilli. With Rice or even freshly fried Puris.
---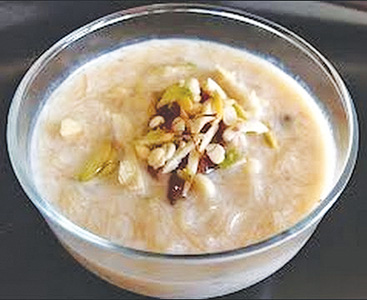 Sheer Korma
Ingredients:
1½ litres Skimmed milk; 1 tsp. Olive oil; 100 grams Whole-wheat vermicelli roasted; a few Saffron strands; 2 tsp. Sunflower seeds (charoli/chironji); ½ tsp. Green cardamom powder; a pinch of Nutmeg grated; 4 to 5 tsp. Sugar; 3 to 4 Almonds blanched and slivered; 3 to 4 Pistachios blanched and slivered.
Method:
Boil the milk until it has reduced in volume by roughly a quarter. Heat the olive oil in a kadai, then add the vermicelli, stirring gently. Stir in the reduced milk. Add the saffron, sunflower seeds, cardamom powder and nutmeg, and cook for about 5 minutes. Stir in the sugar and nuts, taste for sweetness and serve immediately.
Latest posts by Bezad Dadachanji
(see all)