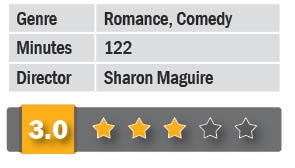 A second sequel, 15 years after the original is by Hollywood standards not an unduly long interval.  But, perhaps it would, if the subject is romance and subject is romance and at the core of the film is a 43-year-old childless spinster.
Bridget (Renee Zellweger) celebrates her 43rd birthday all by herself. But at a music festival soon thereafter, she meets Jack (Patrick Dempsey), with whom she shares a one-night stand. A week later, she meets up with her old flame Mark (Colin Firth), whose marriage is on the rocks. One more blissful night and Bridget finds herself at the receiving end of some pleasant news from her obstetrician (Emma Thompson, who also co-wrote the screenplay). The quandary is — who's the father?
Though not a perfect film, BJB is fairly delightful, with more than a few moments of genuine hilarity. Zellweger and Firth reprise their earlier roles while Dempsey is a welcome edition to the cast at the expense of her former partner Daniel (Hugh Grant), who, we are shown in the opening frames, has passed away. There are some gratifying scenes too, of the two contenders to the unborn baby, especially when they realize the truth of the situation and wonder who'll be left holding the baby.
And with the music enlivening the proceedings, it is overall, a tolerable two-hour romcom, particularly with the final twist the film has to offer.

Latest posts by Hoshang K. Katrak
(see all)