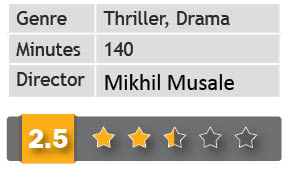 'Wrong Side Raju' is partly based on the 2013 BMW hit-and-run case in Ahmedabad, involving Vismay Shah. Simpleton Raju Bhambani (Pratik Gandhi) is a driver in the country's biggest law firm, whose owner Amitabh Shah (Asif Basra) shares a tempestuous relationship with his son Tanmay (British-born Kavi Shastri — last seen in 'Neerja', as the slain air-hostess's husband). Raju's obsession of opening a travel agency doesn't inhibit him from bootlegging at night.
When the maverick Tanmay's friend from France, Shaily Asher (Kimberley Louisa McBeath) comes down at his behest and starts taking dancing lessons from Raju's sister, trouble starts brewing. A hit-and-run at night, with two cops dead and a civilian critically injured is the clue for the billionaire Amitabh Shah to implicate Raju, in order to protect his wayward son.
Director Mikhil Musale, in an overly prolonged and at times static first half, with some disjointed flashbacks, sets the tone for a taut and relatively interesting second half. Musale displays no compunctions in highlighting some social events such as bootlegging and corrupt cops (he starts the film with some amusing scenes on police corruption).
The film shows the French girl rejecting the advances of the affluent Tanmay and instead having a soft corner for the diffident Raju. Guju jokes such as Glenfiddich being pronounced as 'Glan Fatich' abound. In contrast, what takes the viewers' minds off the scenes at time are the incoherent, orthographically and grammatically clumsy, factually bungling English sub-titles. Sample this — eight days in the dialogues is depicted as 3 days in the sub-titles.
The handful of songs are worth a one-time listening. The garba 'Gori Radha Ne Kado Kaan' by Divya Kumar is sure to be a hit, especially during Navratri. The acting is average, but Hetel Puniwala as Parth Parikh, Raju's cousin and Amitabh's employee-turned-foe does a commendable job. But the final twist in the film makes up for the twenty-minutes- too-long WSR.

Latest posts by Hoshang K. Katrak
(see all)