This is my fourth address as Chairman of the BPP to our community through the BPP Connect. On behalf of my Board of Trustees, I would like to update you on all that has been worked upon in the past one month. I am thankful to Parsi Times for extending this platform free of cost.
Housing Allotments: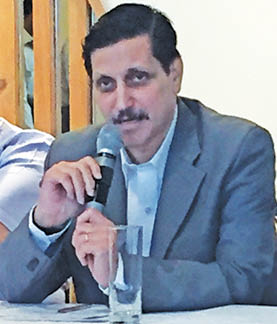 In the last BPP Connect of September 2016, I had committed that I will do my best to ensure that the BPP continues to fulfill our beneficiaries' need for housing without further interruption. Fortunately, two of my co-Trustees Kersi Randeria and Noshir Dadrawalla share the same resolve (Our co-Trustee Zarir Bhathena is recovering from an emergency surgery in the US).
As is now well known, two Trustees – Viraf Mehta and Armaity Tirandaz – have chosen not to sign any more Leave and License Agreements unless Munchi Cama's name is included in the L&L Agreements. This left 20 beneficiaries, who have been allotted houses, unable to take possession of their flats. However this Board refuses to be handicapped under any circumstances and will not let the community suffer.
Insomuch, three of us Trustees – Kersi, Noshir and I – have resolved to go ahead and execute and register the L&L Agreements with only 3 of our names.
It should be noted here that of the 20 allottees, 4 would have been virtually on the streets by the end of last month, as the Licenses for their present accommodation would have lapsed. We, of course, did not allow this to happen. Last Tuesday, the three of us (Trustees Kersi, Noshir and I), by majority, decided to give possession of the allotted flats to these 4 beneficiaries by taking an undertaking from them on stamp paper, as was done in a previous case on humanitarian grounds. Our community can rest assured that the majority Trustees – Kersi, Noshir, Zarir and myself) will push through any and every initiative meant for the benefit of the Community, irrespective of the hurdles put in our path by persons with vested interests within and outside the BPP.
Colony Associations:
While the BPP, through its custodians, is mainly responsible for the upkeep of all BPP Colonies and Wadia Baugs, it is imperative that Colony Associations play an active role in ensuring the wellbeing of the colony residents. One such colony Association which has played a game changing role is the Navajbai Contractor Baug Zoroastrian Charitable Association led by its dynamic President Mehernosh Sidikala and his band of committed committee members. Anyone who had visited Contractor Baug a year ago would have been dismayed at the shabby, neglected look of the colony. In 2014, the Committee came up with a proposal to repair the roads of the colony to save senior community members from stumbling on the uneven, kaccha roads and also demarcate areas for children's garden, etc; and improve the aesthetics. Mehernosh Sidikala, himself an architect, under the able guidance of my dynamic Co-Trustee in the previous Board, Jimmy Mistry, took on himself the task of carpeting the uneven, muddy surface of the entire NC Baug, with paver blocks and re-aligning the storm water drainage system. This has resulted in giving the colony a smart, clean and aesthetic look. The Association has also on its own initiative, undertaken small maintenance jobs (replacing street lights, clearing debris, replacing damaged pipes and garbage chutes, etc) with the costs being reimbursed by the BPP. Mehernosh Sidikala and his committee put in hard work to ensure the wellbeing of their colony and its residents. Being a qualified architect, the BPP looks forward to Sidikala's involvement in the restoration of the Godrej Foundation Building in NC Baug in the near future.
We urge all Colony Associations to play a constructive role in improving the quality of life of their residents.
Zoroastrian Athletic Coaching:
Sports is very much in the news, and India's dismal showing at the Olympics does reflect the low priority and importance given to sports. Our Board has financial constraints which does not allow us to encourage sports as much as we would like. We are unable to sponsor Parsis in various sporting disciplines who look to the BPP for financial help – Kaiwan Panthaki, our celebrated Body Builder is a case in point. Therefore, our Athletic coaching programme gives us a sense of fulfillment, that the BPP is doing its bit to encourage Sports.
The BPP has been conducting an Athletic coaching programme since the last 12 years under Chief Coach Mr. Dara Doomasia. The BPP fully finances this year-round athletic coaching at the Rustom Baug grounds. What started 12 years ago with a dozen athletes being trained 3 days a week has now grown to 70 athletes being trained every day between 6.30 p.m. to 8 p.m., except on Sundays. Coaching covers all the major disciplines – sprints, hurdles, jumps, throws – and is supervised by a team of 4 dedicated coaches – Chief Coach Dara Doomasia, Jangoo Sholapurwala, young Khushnaz General who herself trained under Dara Doomasia and Sharukh Davar.
From the beginning, the very young (4 years and above) are encouraged to come for training and are nurtured into champions. All the hard work has resulted in more than 30 Maharashtra State Gold Medals won over the years. Last year, we had our first National Schools Champion – Zeshah Davar. She won a Gold in the Shot Put event (for Under-16 Girls). BPP Athletic Team has excelled at the Bombay City and Maharashtra State Meets. The BPP Girls Athletic Team is leading in the city of Mumbai and the State of Maharashtra. It is a matter of pride that over a dozen BPP athletes have represented Maharashtra at the National Games.
In addition to the daily training, a month long Holiday camp is also held during the month of May. In the mornings, Rustom Baug grounds are filled with children being trained. Special transport facilities are made available to bring the children from various areas including distant suburbs, to Rustom Baug. From these coaching camps, a core group of outstanding athletes are selected for daily training.
Unfortunately, a very disturbing trend is the exodus of all the senior Athletes once they reach the 10th Std. The burden of studies and tuitions forces them to give up their athletic careers.
My Board deeply appreciates and is grateful to Dara Doomasia for concentrating exclusively for the past 33 years on nurturing sporting talent among the Parsi Irani community and for having done such a fantastic job of it.
Our kudos to all those parents who, inspite of the rigours of daily life, make the time and effort to bring their children to Dara Doomasia's coaching camp in Rustom Baug every evening.
BPP's Eco Initiative:
Afforestation in Ambawadi – A Project by CERE
Doongerwadi, of which Ambawadi is a small corner plot, is a rare gem amidst the concrete jungle of Mumbai. It is one of the few untouched green spaces of the megapolis and plays a pivotal role in maintaining and improving the city's environment.
The afforestation drive at Ambawadi is part of the Centre for Environmental Research and Education's (CERE) larger initiative, namely Urban Afforestation Project (UAP). CERE's UAP project was duly approved by the Bombay Parsi Panchayat (BPP) in 2015 and permission was granted to plant a mixed variety of native tree species in Ambawadi, a plot of approx. 5 acres of land located in the far corner of Doongerwadi near Hanging Gardens.
During the monsoon of 2015, CERE planted 1,477 native tree saplings of species including Amaltas, Bakul, Bhendi, Palash, Indian Almond, Umber, Neem, Shisham, Jamun, Kadam, Sita-Ashok, Indian Tamarind, Karanj and others. CERE organized the labour and saplings for the entire plantation that lasted 10 days. All costs amounting to Rs. 1,52,700/- were entirely borne by CERE. In order to help water the saplings and ensure that they survive through the harsh summer months, CERE also donated 120 meters of high grade PVC pipes to create a watering system from the well within Ambawadi, which was duly installed and greatly helped the plantation.
In 2016, CERE once again approached BPP to augment the existing plantation and BPP graciously agreed to support the project by granting permission to CERE labour to access Ambawadi and undertake the afforestation project on a turnkey basis.
The BPP is indeed proud to partner with CERE in greening the vast estate of Doongerwadi in a thoroughly professional manner. The CERE Team under the personal supervision of Dr. Rashne N. Pardiwala and which includes Kitayun Rustom, deserves all kudos for silently and voluntarily carrying out such remarkable work in a systematic and scientific manner at Ambawadi. This initiative is co-ordinated by Trustee Noshir Dadrawalla.
Conclusively, I must say 'special thanks' to my Co-Trustee Kersi Randeria for his single-minded pursuit to ensure the BPP is run in an effective manner.
Latest posts by PT Reporter
(see all)