Chomp With Palak Murgh Kabab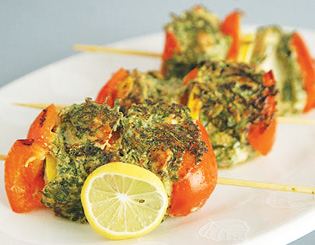 Ingredients:
400 grams Boneless Chicken cut into pieces; 1 cup Spinach blanched and chopped; 3 tbsp. Thick Yogurt; 2 tablespoons Ginger-Garlic paste; Salt to taste; 1tsp. Garam Masala powder; 1 tsp. Green Chillies chopped; 2 tsp. Cheese grated; 3 tsp. Green Chutney; 2 Lemons; 1 large Red Capsicum; 1Tsp. Oil; 4 to 5 wooden skewers
Method:
Mix thick yogurt, ginger-garlic paste, salt, garam masala powder, green chillies, cheese, green chutney and spinach in a bowl. Add chicken pieces and mix well. Cut lemons into thick slices. Cut capsicum lengthwise and further cut into medium pieces. Heat oil in a nonstick pan. String 1 capsicum piece, chicken piece and lemon slice on a skewer. Repeat the process once on the same skewer and secure with 1 capsicum piece at the end. Similarly, prepare more skewers. Place skewers in the pan, cover and cook, turning occasionally, till chicken is soft. Serve with slices onions and green chutney. You can also cook these in the oven, 180 c for 15 minutes or until the chicken is cooked through.
---
Cheers With Italian Amaretto Margarita
Ingredients:
60 ml Amaretto liquer; White Sugar – as required; 75 ml Lime Juice (frozen); 90 ml Tequila; 50 ml Orange Juice; Crushed or Ice cubes – as required
Method:
Put the lime juice, tequila, amaretto, orange juice, sugar and ice into a blender and mix well. Pour into a glass and serve chilled.
Tip – Tip the rims of the glass in amaretto and then in castor sugar to lift the taste of the cocktail as you have it.
Latest posts by Bezad Dadachanji
(see all)