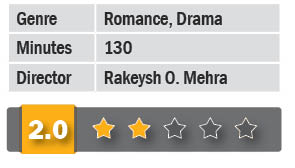 If a modern-day film with a legendary folktale as the backdrop and boasting of 15 tracks qualifies as a musical, so be it. Let's check that out later.
Mirzya is purportedly based on the lines of immortal sagas such as Heer-Ranjha and Sohni-Mahiwal. Munish and Suchitra are pre-teen classmates, bonding over everything — travelling to school together and sharing the same bench to taking up for one another. So when their teacher gives a cane lashing to 'Suchi', Munish steals a revolver from her police commissioner father (Art Malik) and shoots dead the teacher. Escaping from his remand home, he is brought up as Adil (Harshvardhan Kapoor) by a Muslim ironsmith—Om Puri, whose voiceover springs up from time to time.
So far, so good. Director Mehra's interpretation of Mirza-Sahiban is for Adil to work as a stable-hand in the palace of Prince Karan (Anuj Choudhary) who is betrothed to Suchitra (Sayani Kher). With the usual twists and turns expected of love epics, Rakeysh Omprakash Mehra's strategy of introducing newcomers in the titular roles works—but only upto a point. What Kapoor lacks in the chocolate-boy looks of the average Hindi film hero, he makes up with intensity in a few scenes. The model-turned-actress Sayani looks glamorous and seems to be at ease in front of the camera.
After Mehra's helming of films like Rang De Basanti and Bhaag Milkha Bhaag, the viewer is certain to feel let down by the handling of this script (by Gulzar). Approximately a third of the film is consumed by songs which crop up like speed-breakers from nowhere, hampering the narrative. The high-pitched Daler Mehendi who gets to sing more than half of them only succeeds in showcasing his lung power. Brilliant camerawork by the Polish cinematographer Pawel Dyllus interspersing the stunning snowy landscapes of Ladakh (where the folktale portion was shot), with the vibrant and kaleidoscopic hues of Rajasthan, where the modern day story is set, makes up for the CGI-laden action scenes.
Latest posts by PT Reporter
(see all)