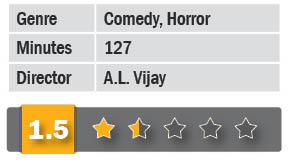 It's a trilingual film, produced simultaneously in Tamil (as Devi) and in Telegu (as Abhinetry).
Krishna (Prabhu Deva) proposes to practically any female in his multinational company, where he works as an executive.  His repeated attempts to woo modern, hep girls perpetually end in dismal failure. Resorting to marrying a village belle (Tamannaah), but embarrassed to confide even in his co-workers, he keeps her under warps in an apartment in Mumbai.
The bride soon shows signs of being possessed by a spirit whose only wish is to become an actress. That's the cue for producer Sonu Sood, to step in as Raj Khanna, a top star who's enamoured with Sweety, the starlet (Tamannaah).
With a litany of thanks and acknowledgements preceding the film and a surfeit of anatomically-defying dance moves, TTT is a film which Prabhu Deva would revel in, whatever the spoken language. How Krishna manages the dual role of a dominating husband at home and a harried spouse on film sets, desperately attempting to keep at bay the amorous attention of Raj, as also exorcising his wife's spirit, forms the crux (read: comedy, horror) of the film.
It's a film to be avoided if you can.  The only saving grace is the performance of the versatile character actor Murali Sharma, playing the ingratiating secretary of film star Raj.

Latest posts by Hoshang K. Katrak
(see all)