Amongst some of the spectacular displays that dawned the gallery of the recently concluded 6th edition of the India Art Festival, the viewers were treated to various amazing art pieces by some very talented Parsi artists. Art Enthusiast, Razvin Namdarian chats up with Hutoxi Wadia and Natasha Lalla at Nehru Centre that held the exhibition from the 6th – 9th October.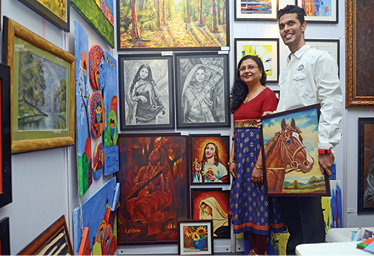 Hutoxi Wadia highlights that her love for art is inherited from her father, Kekobad Cooper, who helped explore his daughter's talent with her art teacher. Hutoxi says, "I painted my first life size portrait even before I finished schooling! I always wanted to showcase my artwork and I found India Art Festival a good opportunity and platform where I can meet Indian as well as international buyers. Prior to this, my first official exhibition was at 'Iranshah Udvada Utsav' in December, 2015."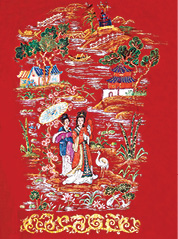 Keenly interested in oil and acrylic on canvas, charcoal, pencil sketch, stain glass painting, fabric painting and much more, Hutoxi can seamlessly paint on any surface; while 'fabric painting' is a natural extension. Well known for her painted sarees inspired by the Parsi Garas, Hutoxi says, "I create customised wedding sarees (Parsi Garas) with exquisite Indian, Egyptian, Persian and Chinese themes and designs for my elite clientele. The colours which I use are of high quality and are permanent, washable and long lasting. I undertake customised orders and make designs as per customer's specification and requirement."
For Natasha Lalla, who has been a finger-painting artist ever since she was just sixteen years old, it was more than a privilege being part of this exhibition that housed over five hundred artists from all over India. "Painting in free form is a form of artistic meditation that reflects my style. I have a unique way of reflecting my spiritual and sublime experiences by expressing images from my subconscious onto canvas by swirling finger strokes. We had a fabulous, attractive and interactive booth set up by Cosmic Heart Gallery at the fest, thanks to my gallerist and curator, Jalpa Vithalani," said Natasha.
Latest posts by PT Reporter
(see all)