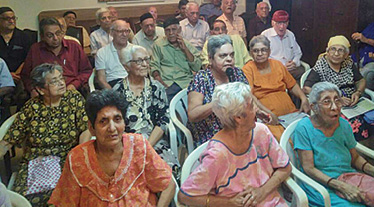 The Zoroastrian Trust Funds of India (ZTFI) held a fun event at the Parukh Dharamshala, Mumbai on October 14, 2016. The evening began with a Karaoke sing-along with many residents and individuals from Team ZTFI singing and swooning to melodious yesteryear Bollywood tracks.
An exciting Housie game session got the seniors participating with gusto – with jaldi five to full house… and everything in between! In fact, another round of Housie was played upon public demand amid much cheer and good humour as a number of prizes exchanged hands. Post the refreshments, was a surprise spot prize session with prizes given out for whacky and amusing reasons, thoroughly enjoyed by all the residents.
ZTFI also gave out its now popular eco-friendly jute bags. The evening ended with praises and prayers to the Almighty for our glorious religion's longevity and blossoming. Kudos to Team ZTFI for yet another successful event, under the proficient leadership of Trustee Yasmin Mistry!
Latest posts by PT Reporter
(see all)