'Chomp' on our all-time favourite Parsi recipes made better, provided by Palafala and Parvana Noorani.
.
.
.
.
Dhan Dar With Prawn/Fish Patia (Serves 4-6):
Ingredients: 500 gms (2 1/2 cups) pigeon peas (toor dal); 1 tsp. turmeric powder; salt to taste; ghee to fry the onions, plus 1 extra tbsp.; 2 thinly sliced onions.
Method: Wash the dal thoroughly and pressure cook with 6 to 8 cups of water, turmeric powder and salt, for 20 minutes or until cooked. Whisk the cooled dal with an eggbeater until smooth to achieve smooth, thick consistency. Heat ghee and fry onions until crisp, golden brown.  Pour hot dal into a serving dish, mix in a tablespoon of ghee and sprinkle fried onions. Serve with steaming hot white rice and prawn patia.
Prawn/Fish Patia:
Ingredients: Til/Groundnut oil; 10-12 large, finely sliced onions; 3 sticks cinnamon; 8-10 cloves; 8-10 black pepper-corns; 2 bay leaves; 2 sprigs curry leaves; half cup spinach leaves (optional); 1 kilo fresh prawns –  shelled and deveined or sliced pomfret; half cup sugarcane (Navsari) vinegar plus half cup to grind masala; walnut-sized lump of jaggery; chopped coriander leaves to garnish; salt to taste.
Grind to a fine paste in half cup Navsari vinegar – 15-20 Kashmiri chillies (deseeded); 2.5 tbsp. cumin seeds; 1 whole head garlic; half inch piece ginger (optional).
Method: Heat oil in a heavy-bottomed vessel until hot but not smoking. Add sliced onions and fry until the start to turn colour. Add cinnamon, cloves, peppercorns and bay leaves and continue frying until the onions are a rich golden brown.  Add curry leaves and the ground masala paste and fry on low flame, stirring constantly, until the masala releases a rich aroma and the oil rises to the top. If the masala sticks to the pan, add a tablespoon of water. Add chopped spinach leaves and the prawns and fry for 2 minutes on high heat.  Add the vinegar and the jaggery chopped into small pieces, and stir. Cover and cook on a low flame until jaggery has melted and the flavours blended. Serve sprinkled with chopped coriander leaves.
Note 1: Vegetarians can substitute small aubergines for the prawns.
Note 2: Do not overcook the prawns. If they are small to medium sized prawns, you may add the vinegar and jaggery first, let it simmer and then add the prawns at the end. The minute the mixture starts to bubble turn off the flame and let the prawns finish cooking in the heat of the patia.
Tip: Try adding a small quantity (about a table-spoon) of tomato ketchup to the masala after frying. It gives a nice tangy taste to the dish.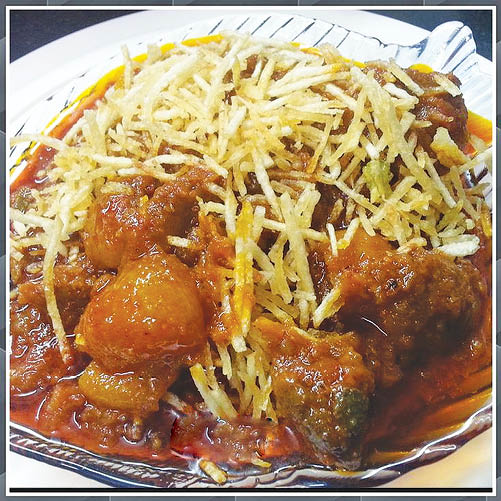 Jerdaloo Salli Boti (Serves 4-6):
Ingredients: Oil; 8 large thinly sliced onions; 2 sticks cinnamon; 2 cardamoms; 10 cloves; 2 bay leaves; 1 tbsp ginger paste; 1 tbsp. garlic paste; 2 tsp chilli powder; 1 tsp. roasted powdered cumin; 1 kilo bone in mutton and cut into pieces; Salt to taste; 3-4 tablespoons Worcestershire sauce; 1 cup dried apricots soaked in hot water with one tablespoon of sugar added; 250 gms salli (shoestring or straw potatoes).
Method: Heat oil and fry onions until olour changes.  Add cinnamon, cardamom, cloves and bay leaves and cook until brown. Add a splash of hot water and scrape up all the browned bits in the pan. Add the ginger, garlic, chilli and cumin. Fry for one minute and add the mutton. Brown the mutton well and then add hot water. Cover and cook on a slow fire or in the pressure cooker until the mutton is almost done. Add salt and cook until the mutton is tender. Add the Worcestershire sauce and heat to blend flavours. Stone the apricots and add with some of the soaking liquid to the meat. Heat through and stir to blend. Serve hot, sprinkled with salli.
Latest posts by PT Reporter
(see all)