Ever since various tour operators like 'Pent Up Tours', 'Cross And Queens' and 'Thomas Crook' announced their individual tours to China, there was upheaval in the Bamboat household in Balaram Street. You see, their one and only spoilt brat, Dadiba, their 51-year-old Katcho-Kumaro-virgin-son wanted to take a tour to China. Mrs. Banoo Bamboat, better known as Banoo-Batak because of her height or rather the lack of it, put her foot down saying  "Dikra, in all these 51 years, we have never let you go alone anywhere. Your father drops you to your office and brings you back safely in the evenings too! And you want to go to China ALONE?? Toba! Toba!!"
She bonked her hubby, Mr. Pesu Bamboat on his head with the Parsi Times she was reading, "say something! Our ekpuro-baabo is talking of going to China!"  Now, Pesuba was a quiet, little fellow like our ex-Prime Minister and like him, Mr. Bamboat opened his mouth only when he visited his dentist, since he was so used to his wife's constant command of  "Mohnu Bandh" since 52 years now. It's not like he never uttered a word. Hell no!!  He uttered two words constantly since they were the secret of his peace of mind and mental sanity. The two magic words were, "Yes Dear!"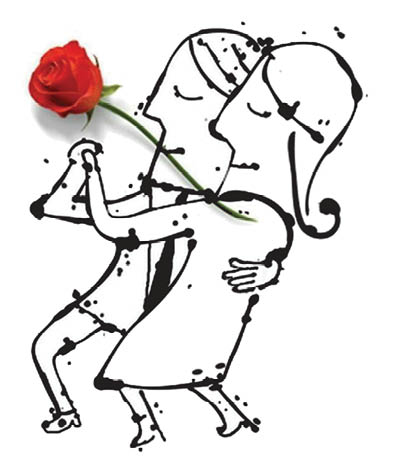 As destiny would have it, Dadiba ultimately prevailed over his mother (after throwing a lot of tantrums) and visited China with Cross And Queen's Tours and returned safe and sound announcing, Mumma-Pappa, your dream has come true! Yippy!!"
"Will Mumbai become Shanghai, as our Ministers keep telling us?" asked Pesuba.
"Arre nai re! Not even in a hundred years but I have decided to marry a Chinese girl I met there – she is also head-over-high-heels in love with me!!"
"Oh lovely" said the dad! "She'll eat like a sparrow, this Chinese-Chakli (sparrow) will survive on half a chapati per day and her food bills will be next to nil!"
"What? Why? How so? Asked Banoo-Batak who was aghast at her hubby's verbal hemorrhage.
"Because Chini Mini Cheaow Cheaow, Ardhi Rotli Khaaow Khaaow!"
"Besi reh, Besi reh! You don't know what you're talking about! These Choochi-Aankhvali (slit-eyed) Chibavli-Luchchi Bilaris (cunning cats) with a Chaptu-Naak (flat-nose) are champions in ju-jitsu, kung-fu, karate, judo, acrobatics and tai-chi so each and every time our little Dadiba has an argument with Chini-Mini, she is sure to give him a Chinese-Chop! Who will take him to Parsi General Hospital to foot the bills then? Tamaro Kako?"
"Don't remind me of my kanjoos Keki Kaka. The bugger left a fortune for orphan dogs at the Sakerbai Petit Hospital and not a rupee for me, his only surviving relative!"
"Mom, Dad, forget Keki-Kaka. This is a question of my life, what I want, my happiness!"
"Pun tahri ummar aj soo chey? Tu to ajhun bachchoo chey." said the doting mother who smothered him and made him into a typical mama's boy!
"I am already 51 for heaven's sake! At my age, all my Gujju and Maharashtrian friends from college have become grandfathers! "
"If you could wait for 50 years , aatla varas thobyo, toh bija paanch saat varas thobta su thaij? " retorted the mother.
"Dad, say something! Please!!"
Dad finally roared, "Batak, mari  jaan, look at it this way. We'll never have to spend money on Chinese restaurants because Vahumai (daughter-in-law) will prepare Parsi-Chinese for us with tasty adrak-lasan-no-vaghar or we can request her to make Madrasi-Chinese, the type we get at Kamat's or Shetty's restaurants, or even Punjabi Chinese like we eat at the Sher-e-Punjab!"
"All you can think of is how to stuff your face with food all day!! How will your precious Vahumai manage wearing a Parsi style sari on special occasions? Marerey! She'll fall flat on her already flat nose and give us kharab garo (gallis ) in Chinese!."
"Good! You reminded me of something! We shall definitely buy her a Parsi Garo!"
"Oh God! What do I do with this husband of mine? I'm saying that Vahumai will give us Chinese gaar – abuses and bad-words, and this man is talking of buying her a Parsi Garo!"
"Mom, dad, she can wear what she wants. After all, I'm also a suited-booted Parsi who looks like Brad Pitt!"
"Stop your Khit-Pit. And both of you don't do Khotti-Hoshyari about a Chinese-Vahumai. Think of her relatives, Aapra Van-Vehvaan, they may all be crouching-tigers and sleeping-dragons who may shout Haa-Hoo-Yaaah like Jackie Chan and give us guillotine-chops if we disagree with them. Aapra toh baar vaagi jasey!"
Mom, I'm not marrying her whole jing-bang family and she is not a Parsi girl who wants her mummy and daddy every weekend, even after marriage. Unlike Parsi girls, these Asians know how to belong, how to integrate with in-laws, so mom, please…"
"Nahin bawa! Rehvaj Dey! She may open a Chinese restaurant and make my Dadiba cook from morning to night. Then she'll open a beauty parlour and all the ugly ladies will come to put powder and paint to look what they ain't! Who knows? She may even open a Chinese Herbal Slimming Centre and all ladies with wall-to-wall hips will wait outside for their turn! Perhaps she will even open a karate class!! Arrey! She will turn aapri Balaram street into a Chinatown!!! Nahi bawa nahi. I would rather you remain a confirmed bachelor, like most men in our community!!"
Pesuba suddenly came to his son's rescue as if he had the Power of Attorney to speak on his behalf and said, "I've got a Eureka-moment, an Aha-moment, a Brilliantine-Idio (a brilliant idea)!"
To which Banoo-Batak responded, "Arrey barerey tamaru Eureka, chalo bhaso and tell me your latest  home-made, half-baked suggestion." This made Pesuba so nervous that he forgot what idea he had and Banoo-Batak had the last word as always!
So it's final! Our Dadiba dear, has to wait for some more years."
Of course, her husband always had the second-last word… "Yes dear", he said!
"But mom, dad, I'll have motia (cataract) and batrisi (dentures) by then! How will I enjoy my married life?"
"You don't need good eyes and teeth to enjoy married life, Dikra! You need something else," said Pesuba.
Our innocent, Kachcho-Kumaro 51-year-old virgin Dadiba is still figuring that one out!
Latest posts by Ruby Lilaowala
(see all)