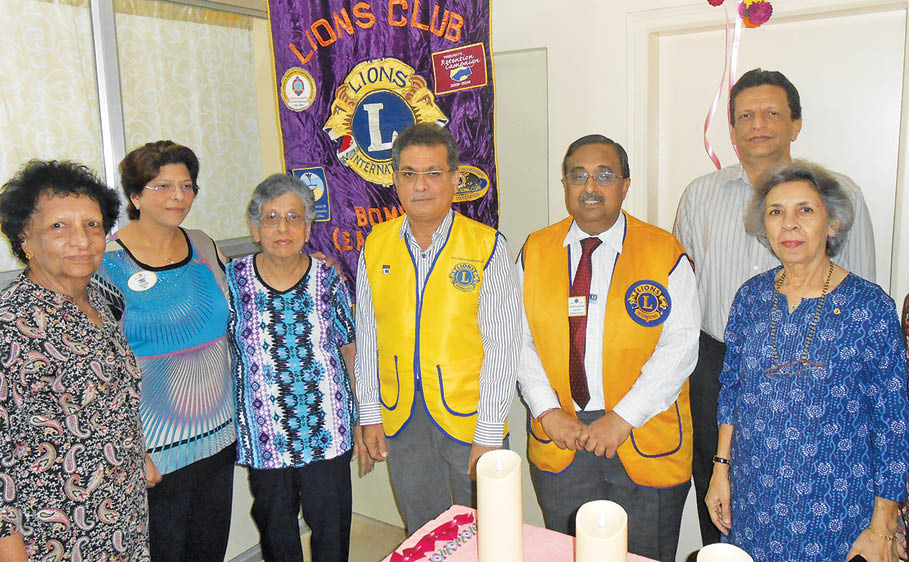 On 16th November, 2016 the Lions Club of East Bombay (LCEB) celebrated their 60th Charter Day by donating Rs.1,50,000/- to the NK Dhabhar Foundation and a bed for free/ concessional chemotherapy treatment at the Cancer Center in Masina Hospital, donated by the family of past President of Lions Club of East Bombay, Late Lion Minocheher Daroowalla. The Chief Guest was Governor of LCEB, Armaity Cooper, the world's first Parsi lady District Governor. In attendance were President Lion Aspi Darukhanawalla, First Vice-District Governor, Pradeep Parikh, Second Vice-District Governor, Divyesh Shah, Dr. Keki Dalal, Dr. Chaina and others.
Commencing the function, President Darukhanawalla said, "It gives me great pleasure to welcome you to this 3rd Landmark project of LCEB for the year 2016-17 for the worthy cause of free / concessional chemotherapy treatment to needy patients." He also expressed gratitude to Katgara, the Trustee of Masina Hospital, Dr. Jokhi, CEO, Masina Hospital and to all the Lions, including Dr. Chaina of the Dhabhar foundation, who had overseen the preparations for the project meticulously.
Ms. Daroowalla said, "The main focus is now on building a palliative centre for terminally ill patients and a day care centre for cancer patients." Governor Armaity Cooper praised President Aspi Darukhanawalla and Golden Jubilee Governor Dr. Keki Dalal for their determination and emphasized the need for boosting the morale of patients being treated for diabetes and cancer expressed gratitude again to the Daroowalla family for their magnificent donation. The morning event ended with snacks.
LCEB brought in the Charter Night with dignified pomp by the enthusiastic Lions at the West End Hotel that evening with President Lion Aspi Darukhanawalla reciting the Lionistic patriotic national allegiance, followed by screening of theme song, 'On The Wings Of A Dove' by District Governor Armaity Cooper. The thrust of the evening was the discussion to arrest the dwindling numbers of Lions and the need to motivate young people to join. Felicitations of badges and special awards followed. Dr. Keki Dalal is all set to become the President during the centennial year due to his colossal success in drawing new members and raising funds when he was President 32 years ago. District Governor Armaity Cooper released the fund raising appeal which was followed by generous donations on the spot. The event concluded with dinner, followed by release of special memento, coffee mugs.
Latest posts by Jamshed Arjani
(see all)