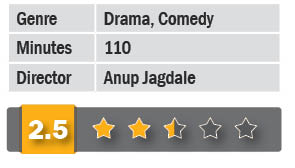 Regional films have rarely been acknowledged in mainstream cinema. Nor have they got their merited due. This year alone, Marathi films such as Ekk Albela, Natsamrat and Ventilator have done reasonably well, with Sairat earning rave reviews.
The first Marathi film of 2017 has Dilip Prabhavalkar (Mahatma Gandhi of Lage Raho Munabhai) as Appa, R.K. Laxman's common man. As the village elder, he sees the village folk getting a high when their village (Manyachi Wadi) is nominated as a prototype for all neighbouring villages.  So sooner than their effervescence ebbs, do the villagers go about their routine and mundane task. And when Appa eavesdrops on a conversation of a couple, he decides to teach the villagers a lesson.
The village sarpanch (Kamlesh Sawant —  seen in Hindi films as the unscrupulous police officer), Dinu (Bhalchandra Kadam) on the lookout for a bride, the lovestruck youngsters Priya( Monalisa Bagal) and Pasha (Mayuresh Pem) are some of the characters who inadvertently get involved in Appa's scheme.
Though the film has more subplots than necessary, writer/ director Anup Jagdale has done a fair job in sending across a social message. Shot on actual location Manyachi Wadi, near Karad in Satara district, Jagdale depicts the rustic background and blends it with a fair amount of comedy. TV, stage and big screen veteran Prabhavalkar, on whom the film is centred, does well, while Sawant seems to carry of the comedic segments with apparent unease. He would do well to stick to the roles of a corrupt constabulary.

Latest posts by Hoshang K. Katrak
(see all)