Well… I just love the way that sounds! Technically, this legendary British brand was brought back home from the land of uncle Sam by UK based Stuart Garner in 2008. But what takes centre stage is the newly launched Norton V4 RR. At £28,000, it almost passes off as cheap compared to the £44,000, 200 motorcycles only (and sold out) V4 SS.
The V4 RR looks resplendent in its mirror finished paint job – dare I say, taking cues from Kawasaki's H2. Difficult as it is to look beyond the skin, the bike is a ground up design with oodles of technology. As a clean sheet drawing, the company decided to draw inspiration from Aprilia's 1,000cc V4 Engine – that they have been racing at Isle of Man on their SG series race bikes, in a Norton-developed frame since a few years. By the production numbers it's evidently clear that Norton is not vying for a number race, but intends to remain a niche brand. What is also evident is that they don't want to play the retro card, and have embraced new technology as the way forward.
With a high compression ratio of 13.6:1, this new fuel injected 72° 1,200 cc liquid cooled engine designed by Ricardo – a known engine development company, develops 200 bhp @ 12,500 rpm, with a torque of 130Nm @ 10,000 rpm. For the not so initiated, the V4 RR is blessed with Road, Sport and Pro-Race modes. The spec sheet shows that the 179 kg (dry weight) bike is bestowed with a slipper clutch, titanium inlet valves, carbon fibre body which includes the fuel tank too. You also get traction control as well as an anti-wheelie launch control. One more tech card played is the absence of rear view mirrors – in place is a 7" high definition screen on the dash, with a rear view camera.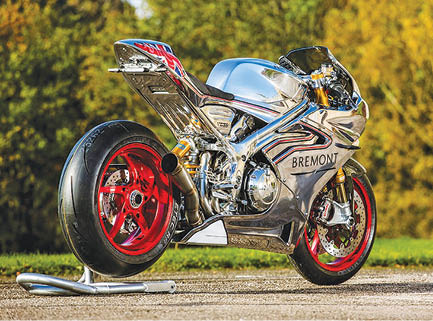 The company's focus will be on manufacturing its aluminum twin tube shotgun frame along with the single-sided swingarm and engine in-house, at their new workshop at Donington Hall, whilst it will outsource other components from class leading companies like Brembo, Bosch, Ohlins etc. The fastest production superbike from England reeks of 'hand built' quality and stares into your face like a fusion between a bird of prey and a work of art! 'The Unapproachable' Norton is much more than a poser's delight, as it turns out to be a well-engineered motorcycle bestowed with new age tech.
For many aficionados such as I, the name, the decal design, the exhilarating ride and the intoxicating sound of a Norton will remain a mix of borderline mysticism and magic. Today, we're more than glad to see the return of an iconic name on the fuel tank. A great past to boot, and a brilliant future is what we hope for. Ladies and gentlemen… once again… 'Norton' is back!
Latest posts by PT Reporter
(see all)