HOME IMPROVEMENT: The 'Woodish Interiors Look', is catching on as the preference of an increasing number of people, as it seamlessly adds a sense of both – sophistication and warmth – to the interiors. Be it furniture or flooring, wood seems to be in demand for various reasons. As such, we are aware mainly of either the normal wooden furniture (made of teak, etc.) or its alternative, Plywood. However, ace interior designer, contractor and owner of M Daruwalla and Son, Hormuzd Daruwala presents Parsi Times readers of three other lesser known alternative materials for our wood-enthusiasts…
Plywood has for long been the material of choice when it comes to making wooden furniture for our homes. It is cheaper than quality solid wood furniture (like teak, sal, etc.), and is also easily available at local dealers. However, in recent times, a few alternatives to plywood have gained popularity because of their cost-effectiveness as well as their greater moisture/water-resistant properties. These include: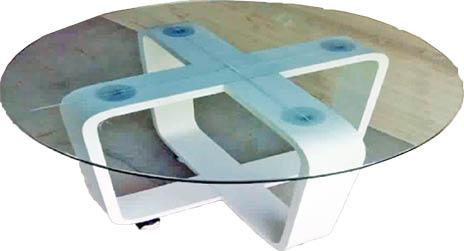 Medium Density Fibre boards or MDF:
Commonly known as MDF, the medium density fibre board is a relatively new type of engineered wood product. MDF boards are made from minute wood fibre, firmly glued together to form a hard surface. Though not as sturdy as Plywood, MDF looks quite attractive because of its smooth, laminated surface finish. MDF boards are usually pre-laminated at the time of their manufacture using LPL (Low Pressure Laminates). Standard size MDF furniture is also assembled in factories, and prove perfect for office funiture, showrooms, etc.
Expert Tip: MDF takes very well to paint and hence can also be painted upon with the shade of your choice. The overall finish of MDF painted furniture is way better than a plywood base. Partitions for offices/homes in MDF prove to be a great option, if painted.
Particle Boards:
Particle Boards present the cheapest options to make furniture with. Not a choice for long-term furniture material, Particle Boards sustain a life of about 4 to 5 years. It is recommended for those living in rental houses or offices and have need furniture to live a short lease period.
Expert Tip: It's a very good option for small units like side tables, etc. You are advised to avoid overload furniture made from Particle Board to make it last longer.
PVC Foam Boards:
PVC Foam Boards is the current rage as a newer substitute for furniture construction. It is white in color, very smart looking and a 100% water proof! Though these come as slightly more expensive on basic cost of material, it saves a lot on labor. The flip side of PVC Foam Boards is the load caring capacity is 30% lesser than regular plywood.
Expert Tip: When constructing furniture with this material, avoid making long shelves. It will last a lifetime if not overloaded. It can be used for bathroom shutters and around wet areas as well.
.
M Daruwalla & Sons announces a flat 20% Discount on Consultancy specially for Parsi Times Readers!
Latest posts by PT Reporter (see all)