ome 21st March, 2017, the Dadar Parsi Colony dons a cloak of festivity with numerous exciting contests giving the young and old of the colony and community a chance to show case their talents. On 11th March, 2017 the fun and unique 'Chal Beta Selfie Leh Leh' Contest, sponsored by Mistry Transport & Logistics was held, where participants were given three minutes to enact a rip roaring scene from a movie, a television serial, a song or create their own unique script ending in a selfie!
The three personalities judging this event were Cyrus Dastoor, Founder of 'Shaniyana Shorts' and producer of 'Sweety Desai Weds NRI'; theatre personality Nazneen Gowadia, currently with Big Bag Productions in their latest play 'Mixed Breed'; and the dynamic philanthropist Yasmin Mistry, sponsor and supporter of the Trust for years.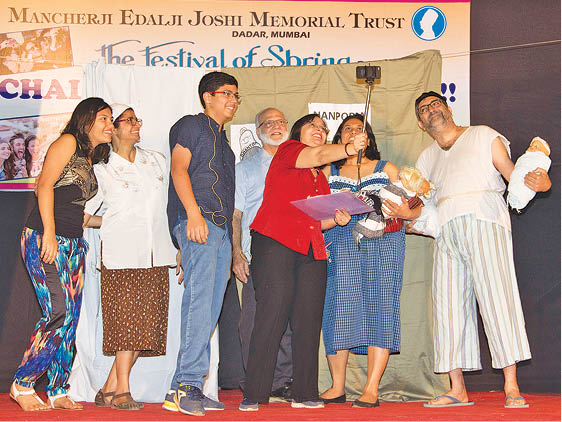 The winners of this contest were 'Save the Earth' in the first place, 'Sholay ke Golay' with 'Dhanjishaji Latki Gaya' sharing the second place; along with other winners 'Sherani Koktiyon', 'Exercise no Dhamako', etc.  A special prize was given to 'Jungle ma Mangal' for the extremely talented, very young participants. The contest ended amidst much fun and laughter.
---
Photos Courtesy: Rehan Daruwalla
Latest posts by PT Reporter
(see all)