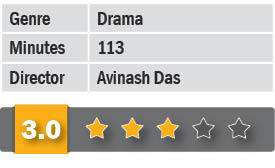 Coming exactly 60 years after the iconic women-centric Mother India, Anarkali of Aarah – starring Swara Bhaskar – tells the story of a rural folk dancer Anar(kali) of Aarah village in Bihar.
Anarkali (Bhaskar) is the feisty and plucky lead singer of a troupe which specialises in entertaining locals with bawdy folk songs. Though the villagers accept her for what she is and realise that this routine of hers is her bread-and-butter – no more no less, the local bigwig Dharmender Chauhan (Sanjay Misra) has other ideas. The latter part of the film revolves around Anarkali returning from Delhi, where she had to flee upon rejecting Chauhan's advances.
Coming closely on the heels of Pink, AoA belongs solely to the hugely talented Swara Bhaskar. The film continues to debate on the burning issue of women being taken for granted – merely on the basis of their calling. After playing the mother of a teenager last year in Nil Battey Sannata, she is bound to be noticed as the spunky villager who has her way in the end. Sanjay Misra lends excellent support while Pankaj Tripathi as Rangeela – her troupe-mate, and Ishtiyak Khan as Hiraman – the good samaritan who comes to her rescue in Delhi, emote well.
Shot largely in Bihar, local boy Avinash Das – in his first film as writer-director – has helmed a sensitive subject, besides eliciting some superb performances from his main caste. Cinematography by Arvind Kannabiran (My Brother Nikhil, NH10) is admirable. Though the ending is a bit abrupt, Swara Bhaskar's spirited performance and effervescence in the final song 'Sa Ra Ra' sung by Pavni Pandey is easily the highlight of the film

Latest posts by Hoshang K. Katrak
(see all)