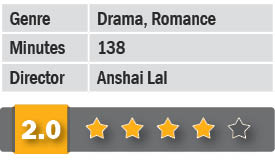 Phillauri is the story of a friendly but confused ghost and age-old traditions, peppered quite liberally with Punjabi folk songs.
Kannan (Suraj Sharma – Life of Pi) is a Canada-returned Punjabi boy due to marry his childhood sweetheart Anu (a comely Mehreen Kaur Pirzada in her first Hindi film). But as the disinterested Kannan is discovered to be a 'manglik' (think Lage Raho…), he has to first marry a tree (got the connection?) in order to nullify the supposed malignant effects of his horoscope.
But producer siblings Anushka and Karnesh along with debutant director Anshai Lal had to seemingly contend with a problem – the tree, chopped down after the nuptials, was the abode of a ghost. The film, with a narrative going back & forth, has another love angle too: a century ago, Roop Lal Phillauri (Diljit Dosanjh) and Shashi (Anushka Sharma) were to be married, but fate willed otherwise. Why Roop and Shashi could not get married, forms the elongated climax of the film.
Diljit Dosanjh does well, but falls short of his Udta Punjab performance. Mehreen Pirzada manages to look lovely, but that's it. Anushka, thanks to the VFX, as the translucent ghost, manages to come off well. But, with his facial expressions and articulation, it is Suraj Sharma as the undecided and vacillating Kannan – especially in the first half – who stands out. The songs manage to add to the flavour of the rustic theme.
The premise of the film is simple and uncomplicated – the length of the film and the sundry flashbacks, however, do not permit it to be so.

Latest posts by Hoshang K. Katrak
(see all)