The Mancherji Edalji Joshi Memorial Trust (MEJMT) organised their 37th Jamshedi Navroz Gambhar at the Dadar Parsee Colony Gymkhana grounds on 21st March, 2017, to commemorate the 'Festival Of Spring'. Graced by Chief Guest, Dr. Pheroza Godrej and Guest of Honour, Prof. Dr. Tehemton Udwadia, the evening comprised great entertainment with performances by our community's young talents.
The Trust also felicitated some of our community's eminent personalities for their contributions – with the 'Mancherji Edalji Joshi Outstanding Contribution Award' presented to art historian and environmentalist, Dr. Pheroza Godrej  as well as Padma Bhushan Awardee, Prof. Dr. Tehemton Udwadia.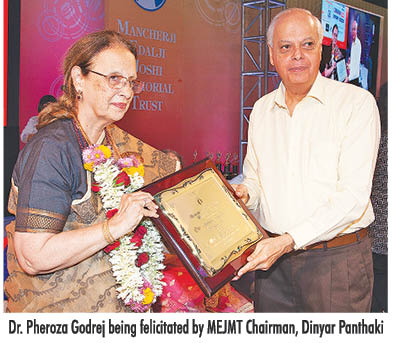 The 'Outstanding Contribution Award 2017' was given to Principal of Bai Avabai Petit High school and Chief Organiser and Mentor of the popular Holiday programme For Youth (HPY), Diana Marfatia for motivating the youth of our community; as also to Shahrokh Bagli for his contribution in the field of geosynthetics and environmental concern.
Snooker and Billiards Champion, Farhad  Tengra was felicitated for ranking amongst the Top 32 in the 'World Master Snooker Tournament' and for also coaching the Mumbai Police and the State Reserve Police Force in Karate for several years.
Arnavaz Mistry presented the 'Jal Mistry Award For Outstanding Colonyite', to CEO of KUONI Travel Management Ltd, Zubin Karkaria for being the first Indian as well as the first Asian to be appointed to this prestigious position in KUONI or any major Swiss Company. Along with being credited with various accolade such as, 'Pioneer of Visa Service' and 'Travel Entrepreneur of the Decade', Zubin was also conferred the 'Chavalier de l'ordre National Merite' meaning 'Knight of the Order of Merit' from the French Government.
The 'Kavina Karkaria Youth Icon Award' was bestowed upon the Sport's Youth Icon of our community, Jehan Daruwalla, who at the young age of 19, has created world history and is the first Indian to win the New Zealand Grand Prix.
In keeping with the festive spirit and with the hope to encourage young mobeds to take up full time mobedi, Er. Eric Dastur, Er. Kaizad Kotwal and Er. Pervez Pavri were felicitated with a cash prize and a trophy for 'Excellence In Mobedi'.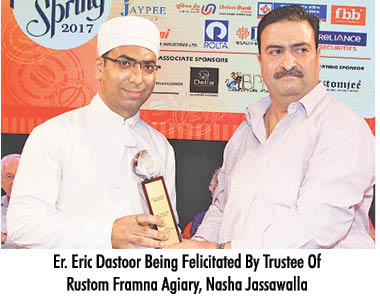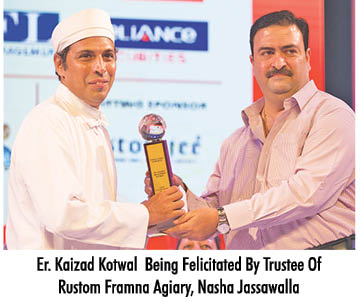 Boosting the confidence of our community's youngsters to scale greater heights in academics as well as extra-curricular activities, the evening also saw students and young achievers being felicitated for their hard work. The fun-filled bonanza evening concluded with delicious dinner catered by Tanaz Godiwala.
Photo Courtesy – Rehan Daruwalla
Latest posts by Delaveen Tarapore
(see all)