Parsi Times is delighted to media-partner and promote 'Echo' – a movement that aims to bridge the gap of unequal education between the public and private sector schools in India. Echo raises awareness of these inequities and puts into action a sustainable solution that all members of the community can support. Started by the Rotaract Club of HR College along with the Rotary Club of Bombay (RCB), the first Echo chapter took place in 2015, bringing together 50 municipal or public school students of Bhavishya Yaan (a sub-committee of RCB), with 30 Rotaractors or college students. Echo 2016 witnessed a growth in number with 100 municipal school students from Bhavishya Yaan, YMCA's Night Study Centres and 40 Rotaractors.
Echo 2017 is a joint movement by Rotaract and Rotary and this year, the project will see participation from 100 Rotaractors (College Students) across 10 different colleges partnering together to conduct 6 Echoes that will impact 270 municipal school students from Class X. In this year's week long program starting on April 4, 2017, ECHO's Rotaractors will engage with municipal school students as mentors, friends and peers. Professional sessions planned include Leadership Development; Confidence Building; Career and College Specialization Counseling; Gender Sensitization; Health and Hygiene; Logical Thinking; Creative Implementation and Speech Writing with an English Focus.
"So often we hear people complaining about the state of our country and all its various problems. Echo is an opportunity to get involved in becoming part of a viable and sustainable solution which will help not only bridge the gap in our Indian education system but in time create marketable employees, an empowered work force and of course a stronger economy. We are happy that Parsi Times supports us in this venture," says Freyaz Shroff, Convener, ECHO.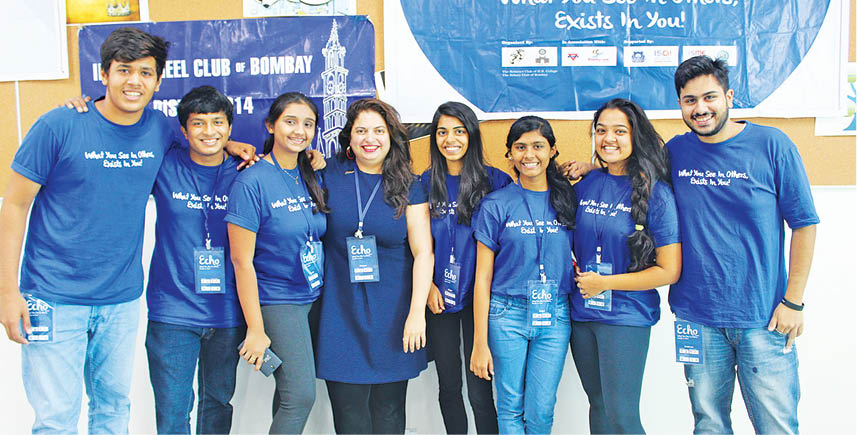 The most profound impact was felt in the very first year Echo 2015, when it was registered that ALL Echo participants had enrolled into college, and as of today, they have all completed 2 years of junior college, giving their HSC examinations! This is a huge accomplishment given the high college drop-out rate of students from the slums due to the English instruction for all subjects in college, lack of assimilation and lack of acceptance the municipal school students feel in colleges.
During the program, the children spend the whole day at the event and are provided enriching sessions to round off and boost their personalities, make good friends and mentors and are provided all meals. ECHO 2017 will take place from 4th – 7th April, 2017, at the Indian School of Management and Entrepreneurship (ISME). The finale will be held on Saturday, April 8th, at the KC College Auditorium from
4:00 pm to 6:00 pm.
.
To participate/partner for sponsoring food, transport or just taking up the cost of sponsoring participants for the week, please connect: changemakers@gmail.com or 9892273973.
For further details, visit our Facebook page: @EchoRCBRCHR
or https://m.facebook.com/EchoRCBRCHR/and Instagram
page: @ECHO_Changemakers or http://instagram.com/echo_changemakers.
Latest posts by PT Reporter
(see all)