Shirin Merchant shares Canine Nutritionist, Kat Ferrera's special recipe to keep your pooch healthy and happy!
Ingredients: ½ kg Minced Beef, Chicken or Pork; 2 medium peeled and diced Potatoes; reserve 2 tbsp. of Potato water; ½ cup mixture of diced Baby Corn, Peas, and Carrots (You can also add any other vegetables your dog enjoys eating, excluding Onions, which can be toxic to dogs); 1 cup Meat Broth; 2 pats of Butter; a pinch of Salt and Garlic powder; 1 drop Worcestershire sauce (optional); Filtered water enough to cover the meat.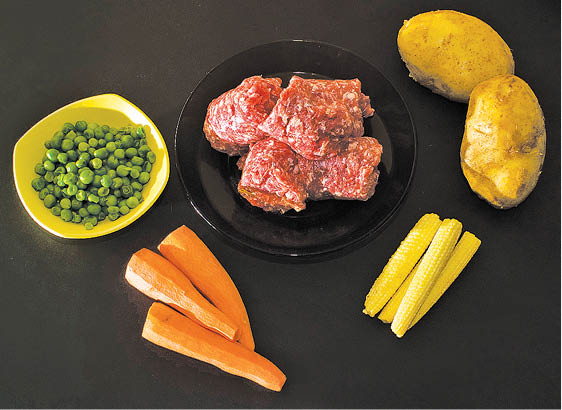 Method: Microwave the veggies for three to five minutes to precook them. Add two tbsp. water to the vegetable mix. Drain before adding to meat. Preheat the oven to 200°C. Place meat in pot and add filtered water to just cover the meat. Add a dash of salt. Bring to boil then reduce heat and simmer 30 minutes. Drain meat and reserve meat broth. Boil diced potatoes in lightly salted water for about 30 minutes until tender. Save 2 tbsp. of potato water to add to meat broth. Melt 1 tsp. of butter in frying pan and add drained meat and nuked veggies. Add a dash of garlic powder. Sauté for about five minute. Add ¼ to ½ cup meat-potato broth to mixture. It shouldn't be soupy or watery, just nicely moist. Add a dash of Worcestershire sauce. Add more broth as needed to keep mix moist but not wet. Continue simmering the broth uncovered for ten minutes. Drain potatoes and mash with the last pat of butter. Place the moist meat and vegetable mix in baking dish. Cover meat mix with the mashed potatoes. Don't smooth too much, leave the potatoes peaky. Peaks will brown when baked. Bake in preheated oven at 200°C for 30 minutes. Potato peaks should be a bit browned. Let cool until it is just warm. Serve a portion to your dog. Put the rest in freezer-safe containers and refrigerate or freeze individual sized portions for a new meal. Thaw frozen meals before serving to your dog. Meals can also be defrosted in the microwave and then cooled until just warm to the touch.
Shirin Merchant  looks forward to answering all relevant queries from our readers.
Please write in to: k9cancare@hotmail.com or mailparsitimes@gmail.com
Latest posts by Shirin Merchant
(see all)