The fifth Zoroastrian Powerlifting Championship, affiliated with and conducted by The Greater Bombay Powerlifting Association, in collaboration with the Naryman Dubash Foundation, was held at the Dadar Parsee Colony Gymkhana Grounds on Saturday, 8th April, 2017. Sponsored by Zarine and Yazdi Daruvala Trust, The WZO Trust, Late Ervad Hormusji Antia and Dinamai Antia Trust, Shapoorji Pallonji and Co. Ltd, Merwanji C M Jeejeebhoy Trust, Union Bank, Dena Bank, Soonabai Hirji Agiary Trust, Bombay Parsee Panchayet, Maneckji Nowroji Sett Charities and Ascension Fitness, the Chief Guest for the evening was body building and weight lifting stalwart, Kaizzad Capadia.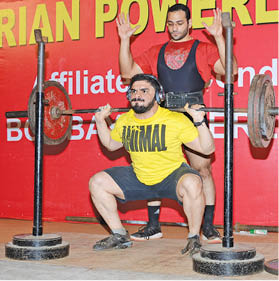 Brainchild behind the event, Roozbeh Bulsara said, "The Zoroastrian Powerlifting Championship was conceptualized with the objective of carrying on the legacy which was built by our previous stalwarts in body building, weight lifting and in strength. We commenced this endeavour in collaboration with Naryman Dubash Foundation."
The event was compered by Hutoxy Doodhwala. Twenty-four young men, three ladies and four colossal veterans (Senior Citizens) of Power Lifting, were keenly judged by winner of the Daduji Konde Award in Powerlifting, Dilip Keluskar, and Chhatrapati Award Winners, Sanjay Madhav and Suryakant Garde, who witnessed participants competing in (Mens) Squats, Bench Press and Dead-weight Lifting of weights less than 65 kgs, 66-75 kgs and over 75 kgs respectively, while the ladies and veterans participated in 'Bench Press' alone. The center of the Championship events, Viraf Panthaki, has been a Maharashtra State Weight Lifting Champion for nine years, a National Champion, Head of the Indian Powerlifting Team at four World Championships and twice at Asian Championships. He was also Referee thrice at World Championships and twice in Asian Championships.
CEO and Founder of Ascension Fitness, which partnered the event by providing social media, marketing and organizing support, Zarvaan Mistry, added, "This year we saw more youth participating and taking the baton forward, which is a good sign. We still encourage the Zoroastrian youth to consider this sport which was once our legacy and to participate with the spirit of promoting this sport. It's not just about winning or losing, it's about enjoying the journey as our forefathers did. I am glad I participated too."
The young men were divided into two groups. Participants of the first group weighing upto 65 kg, were Dinyar Fitter, Percy Shroff, Jimmy Junglewalla, Rustam Dastur, Rayomand Irani, Dezad Patel, Hormuzdyar Balsara, Anosh Mota, Ervad Harvespa Pervez Madon, Shahzad Variava, Khurshed Elavia, and Sarosh Daruwalla, in Powerlifting, Bench Press and Deadweight Lifting.
The participants in the second and third groups, weighing from 66 kg to 75 kg and more than 75 kg were Behzad Sanga, Khushroo Cooper, Jehangir Randeria, Khushroo Kadwa, Anosh Toddywalla, Hanoze Malesara, Meherzad Patel, Zarvaan Mistry, Rohan Panthaki and Meherzad Chinoy.
The Veteran participants in Bench Press were Hoshang Batliwalla, Rumi Bhathena, Aspi Acharya, Percy Bahamani and Alborze Irani, while the participants in the Ladies category, were Ferzana Daruwalla, Khushnum Mistry and Robeab Patel. The event concluded with the prize distribution ceremony, followed by a body building demo by Mr. India and Winner of 'Champion 2017', Sumit Jhadav and a sumptuous dinner.
Latest posts by Jamshed Arjani
(see all)