Right after the great success of 91 children being born in the last year, Jiyo Parsi, organized an interactive workshop for our proactive Zoroastrian Priests and their wives, at the Godrej Masina Hospital Centenary Hall, on 13th May, 2017. The purpose of the seminar was not only to familiarize our priests with the Jiyo Parsi program but also to enable them to be at the helm of the community, to address their woes, in addition to confidently providing a wholesome life and education for themselves and their families. The Jiyo Parsi initiative was sponsored by the Ministry of Minority Affairs and implemented by Director Dr. Shernaz Cama of the Parzor Foundation, along with the BPP and the Tata Institute of Social Sciences in Mumbai.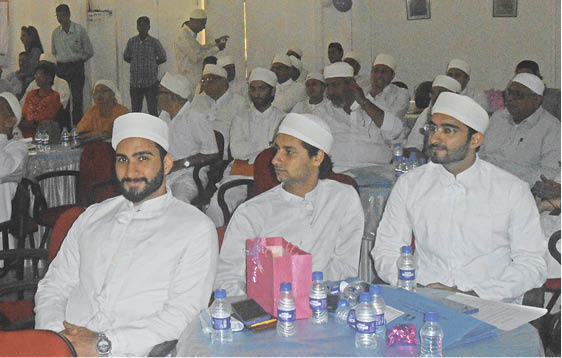 The Jiyo Parsi Organizing Team, comprising Dr. Shernaz Cama, Niloufer Shroff, Dr. Katy Gandevia, Binaifer and Karl Sahukar, Pearl Mistry, Dinshaw Tamboly and BPP Trustee Armaity Tirandaz,  put together this advocacy programme which was conducted in four segments by Er. Darius Bajan, Dr. Kersi Chavda, Psychiatrist, Dr. Yusuf Matcheswalla and Dr. Ali Gabhrani. Vada Dasturji Khurshed Dastoor encouraged the Zoroastrian priests saying, "We are the torch bearers of our community and we should lead the community and guide the devotees."
Er. Burjor Antia, who sponsored the venue for the function, said, "Our community today needs enlightened priests who can arouse faith in the young generation of our community so that the religion propounded by our revered Prophet Zarathushtra remains alive for all times to come." Managing the workshop, Binaifer Sahukar said, "This event was planned two months back. For a long time we have been thinking that priests are a very important part of our community. Dr. Matcheswalla too, suggested that we do something for our priests, which was supported by Shernaz Engineer and the seeds were sown. Earlier it was supposed to be a regular Jiyo Parsi workshop about family life but then Er. Aspandiyar Dadachandji and Vada Dasturji Khurshed Dastoor felt we should do something about leadership too."
The event commenced with a prayer recited by Er. Kaizad Karkaria. Speaking to the gathering, Committee Member, Dinshaw Tamboly said, "For the Parsi Community to survive, it is very necessary that we should have good, articulate Mobeds who can preach our great religion to all Parsi and Irani Zarthoshtis. Today let there be positive vibrations in this audience. Let us put our best foot forward in ensuring that we create a good and great band of mobeds who follow in the steps of our forefathers and be that creed to save our Parsis."
Medical Director of Masina Hospital, Dr. Vispi Jokhi presented the welcome address, followed by the explanation of a good priest by Er. Darius Bajan. He said, "The word 'Athornan' is derived from the Avesta word 'Athravan', the one who tends the Fire. The work of a priest is not limited to tending to the physical Fire. A more important commitment is tending to the spiritual fire within each Zarthoshti, which contains the Fravashi, the soul, the core values of God Thoughts, Good Words and Good Deeds". Noted Psychiatrist with Reliance and Hinduja Hospitals, Dr. Kersi Chavda's session included Audio-Visual presentations, followed by Pearl Mistry screening a short film, 'Tale Of Revival', depicting the progress of the community with Jiyo Parsi.  Dr. Yusuf A Matcheswalla emphasized the strong influence the clergy has had on the laity in all religions and also highlighted how the priests are regarded as pivotal sources of enlightenment. Dr. Ali Gabhrani's lively session about marital happiness and enjoying domestic bliss revolved about physical, emotional and moral stability, while emphasising the importance of good health, hard work and wisdom to create success.
Dr. Katy Gandevia delivered a vote of thanks, followed by felicitations and a sumptuous lunch.
Latest posts by Jamshed Arjani
(see all)