The WZO Trust Funds and the Zoroastrian Dentists Organisation organised a dental camp on 18th June, 2017 at Jamshed Baug in Navsari for Parsi Zoroastrians. The camp, comprising a team of 9 dentists from Mumbai, led by the eminent Prof. (Dr.) Porus Turner, was hosted by Dinshaw Tamboly and wife Bachi, and comprised Dr. Kaiwan Shroff, Dr. Farzana Bharucha Irani, Dr. Taronish Bharucha, Dr. Rushad Nariman, Dr. Cyrus Karkaria, Dr, Jamshed Tavadia, Dr. Kayannush Dadachanji and Dr. Ruxshin Bhot. Over 60 Zoroastrian residents of Navsari benefitted from the camp.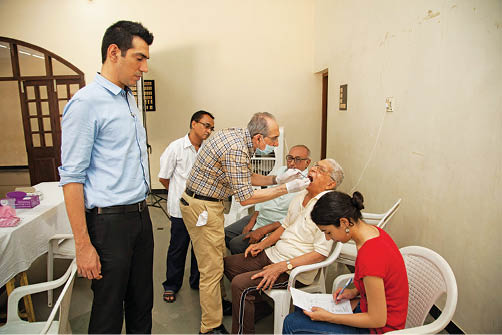 The camp commenced with Dr. Porus S Turner sharing an insightful audio-visual presentation on dental care and said that the camp would include diagnosis as well as follow-up dental treatments like root canals, crowns, fillings and dental implants free of charge in his private dental clinics or in those of any of the Zoroastrian dentists who conducted the camp. An interactive session followed the presentation with numerous participants showing willingness to come to Mumbai for dental treatments.
After the camp, the team of dentists visited Navsari's DN Mehta Sarvajanik Hospital (popularly known as Parsi hospital) and were impressed with the modern technology and facilities available. The team of dentists have promised the Trustees support and cooperation to upgrade the dental section of the hospital and plan a new department which would be comparable to Mumbai's best dental centres.
The Zoroastrian Dentists Organization and the WZO Trust Funds are grateful to Burjor Antia for his logistical help in making the camp successful, as also to WZO Trust Funds' Navsari Team for their coordination.
---
Pics Courtesy: Sarosh Daruwalla
Latest posts by PT Reporter
(see all)