Residents of the Dadar Parsi Colony (DPC) are up in arms against BMC's proposal for widening a few roads in the vicinity, as this would reduce the green cover since most roads encircle open spaces. At a recent Mumbai Heritage Conservation Committee (MHCC) meeting, the BMC tabled a proposal to widen roads lesser than 9m breadth, around DPC – including roads that encircle Rustom Tirandaz Garden, Wadala Garden and Wadia Park, located near the Mancherji Edulji Joshi statue. Upset residents said this kind of development was uncalled for, as they are fine with the width of the existing roads.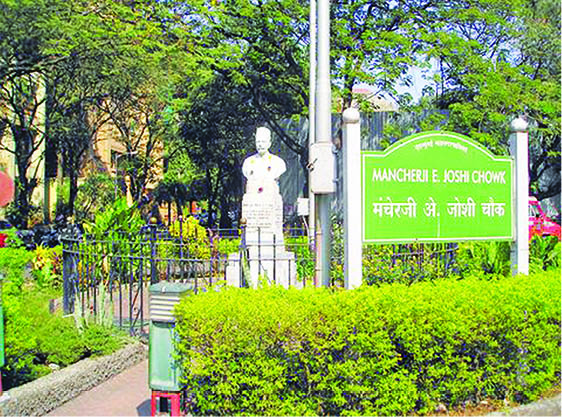 This is the third such instance when the residents are revolting against the BMC, beginning with the proposal of turning few footpaths along the area into a hawker zone in 2015, followed by BMC's attempt to separate the area from Five-Gardens in a plan restructuring the wards. Distressed by the new proposal, Zarine Engineer, the grand-daughter of the Founder of the colony, Mancherji Joshi, said "Ever since we heard of this, we have been protesting – there is no need to widen the road as we do not face traffic issues, and definitely not at the cost of our greenery! In fact, when Mancherji Joshi built the colony in 1921, his vision was to have more open spaces and make sure every building was surrounded by lots of trees. We have spoken to all officials concerned and we even have the Heritage Committee at our side."
Speaking to Parsi Times, core committee member of Mancherji Edulji Joshi Colony Residents Association (MEJCRA), Zenobia Unwalla said, "All the residents unanimously wish to not compromise on losing out on our gardens and trees, to widen the roads. We have written a letter to the Municipal Commissioner as well as to the Garden Department and ward officer. We have asked for an appointment with the Municipal Commissioner so that we can request a stay on it."
"Such changes are not necessary at all. We are approaching the BMC and concerned authorities regarding the same," said Mahiyar Dastur, Trustee of Mancherji Edulji Joshi Memorial trust (MEJMT).
The MHCC official have now sought a detailed plan from the BMC, considering the possible loss of green cover, and will also be checking if a traffic study had been conducted.
Latest posts by Delaveen Tarapore
(see all)