Parsi Times is delighted to congratulate two much-loved centenarians from our Community – Homi R. Mehta (born 23rd June, 1917) and Nergish K. Bamji (born on 2nd July, 1917). Happy 100th Birthday to you both for scoring the perfect century!!
Walking Tall At 100 – Homi R Mehta
PT Special Correspondent Hoshang K Katrak Reports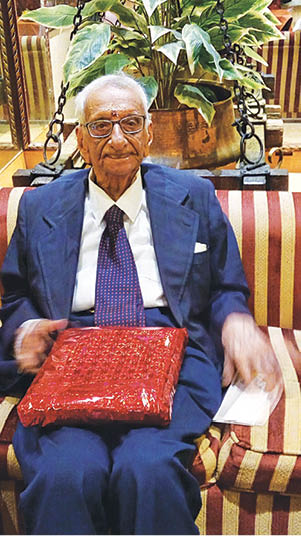 There's something magical and truly incredible about people reaching their 100th milestone. Indeed those who hit a century have luck and God by their side – like Homi Rustomjee Mehta, the 'young' man from Cama Park, born on 23rd June, 1917. This momentous occasion was celebrated with gusto last Friday at Hotel Karl Residency (Andheri), the event lovingly put together by his family – comprising 90-year-old brother Prof. Shapur, sons Cyrus and Darayus, grandchildren Piran, Khushnum, Ruston, Rushad, and Rhea, great-grandchild Kyra, and with the blessings of late daughter Dinaz.
Amidst the warmth and love of over a hundred friends and family members – with Cama Park being represented in full strength, the gathering was the perfect setting for Homi Uncle to reminisce fondly about the years gone by. Nostalgic and precious memories were brought to the fore with an endearing audio-visual encapsulating his life: his convocation, his wedding in 1950 with late wife Mehru, and the Navjote ceremonies of his children and grandchildren.
Homi Uncle had served in a managerial capacity at Godrej Soaps for more than 30 years; and has been an avid walker, having stood fourth in the 10,000 meters walk held by the Bombay Presidency Olympic Association. He was also a keen sportsman, having played tennis, badminton and table tennis and having won many awards. With all his senses very much intact, not much has changed in the way he lives his life. Homi Uncle spends his days reading – sometimes with a magnifying glass – and keeps himself abreast of all the latest happenings. He wraps up his evenings with a stroll in the green grassy lawns of Cama Park.
Hundred and still going strong, Homi Uncle is – by God's grace – still fit as a fiddle; and when asked about his secret, pat comes the reply "that is not to be disclosed! " His favourite food items include dhansak and pizza, and likes to indulge in a naughty limerick every now and then – could this be one of his secrets to staying young?
Now, Homi Uncle is looking forward to the days to come, and says, "Eloko ey utaaval kidhi, sau varas celebrate kari ney". Wonderfully spoken, Homi Uncle. The best is yet to come… let the celebrations continue!
Happy Birthday Ms. Bamji
-By PT Reporter Dara Khodaiji
The Lady with the lamp, the Florance Nightingale of education, Nergish Kaikhushru Bamji – born on 2nd July, 1917, will complete her glorious hundredth birthday, tomorrow. She lit the lamp of enlightenment in the minds of her girls as the principal of Sir JJ Fort Girls' High School, where she served for over forty years. She molded their destiny and sent them out in the world as smart young women to succeed in all aspects of life.
At hundred, she's quite alert and boasts of a great memory – speaking to her is an intellectual feast on a variety of subjects. A voracious reader, her only regret today is her diminishing vision preventing her from this since the last two years. Even though her fall last year has limited her perambulations, she enjoys meeting the old girls and people connected with her school. She speaks fondly of JB Petit High school where she was schooled and shares vivid memories of her principal, the sister of Sarojini Naidu.
Ms. Bamji and Ms. Pal who succeeded her as the principal have been great supporters of the Sir JJ Schools' (Boys' and Girls') Alumni Association of which this writer is the President. This association is very dear to Ms. Bamji's heart. She remains our Friend, Patron and Guide. May God bless her with good health!
Happy Birthday Ms. Bamji!
Latest posts by PT Reporter
(see all)