The last time a film was made  on vasectomy was four  decades ago. The maverick comedian I. S. Johar had made one of his famed spoofs on the  male sterilisation programme, only to see its release delayed till the Emergency ended.
Now, on the heels of 'Shubh Mangal Saavdhan' (based on erectile dysfunction) comes this virtual remake of the 2014 Marathi 'Poshter Boyz' which Talpade had produced.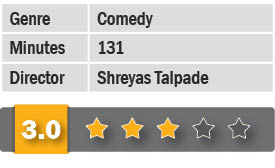 The basic premise is uncomplicated: three men in a North Indian city, and unknown to  one  another, find themselves ostracised by society in one way or the other. Jagaavar Choudhary (Sunny Deol), a retired army officer finds his younger sister's wedding abruptly called off. Vinay Sharma (Bobby Deol),an absent-minded school teacher is threatened with dovorce and Arjun Singh (Shreyas Talpade), a recovery agent who's always surrounded by his two henchmen, discovers to his horror that his girlfriend's parents have called off his engagement.
The reason: all three of them discover simultaneously — and rather conveniently — that their photographs have appeared in a government sponsored pro-vasectomy campaign. The ad's claims of the three having voluntary, and successfully,  undergone their nasbandi operations causes consternation in their personal and social lives.
Talpade's maiden directorial feature begins on a promising note. With a TV journo announcing the three's fight against the  government and introducing the three characters, the film fails to deliver on its earlier promise. While Sunny's character attempts to elicit laughs with his pouting selfies, Bobby's bumbling  character and his constant fights with his wife seem too stretched either for visual or aural comfort. Talpade does his best — both behind and in front of the camera, but fails to elevate his film to the levels of an A-grade comedy. References to Dharmendra, J P Dutta's Border and infusing the 'Soldier Soldier' tune as Bobby's ring tone can pass off as passable comedy at best. Eli Avram's item song  'Gaon ki kudiyan' is a valiant attempt at adding to the film's glamour quotient.
The film also misses out on expanding a bit more on its core subject, viz. vasectomy.

Latest posts by Hoshang K. Katrak
(see all)