Surely Sanjay Dutt could have chosen a more sensible (read: mature) vehicle to make his comeback. Even with the battle-scarred Dutt, the rape-revenge-retribution saga is turning out to wear thin.
A blink-and-miss opening scene tells you that a woman is being sexually assaulted in a moving vehicle at night, with one of her shoes falling out. Cut to 'one month earlier' where Bhoomi (Aditi Rao Hydari) is in a blissful world of her own— with her single parent dad Arun Sachdeva (Dutt) and fiance Neeraj (Siddhanth Gupta).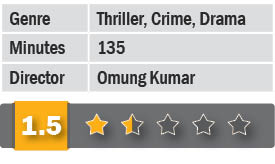 The horrific incident turns her world upside down with an elderly relative cautioning her to keep quiet  about the incident. But she does — to Neeraj at 'baaraat' time and predictably, guests vacate the mandap.
That's the cue for director Omung Kumar (Mary Kom, Sarbjit)  to introduce the inevitable court-room drama where the defence lawyer takes liberties humiliating the victim by asking her about her late nights, her virginity and details of the rape—all in a packed courtroom.
A red-eyed father and his teary-eyed daughter, after exhausting all legal avenues extract justice in the most predictable ways in the second half. It's a long buildup in the first half of a loving and doting shoe-maker father, spending evenings drinking with his friend (Shekhar Suman), and a villain Dhouli (Sharad Kelkar) and his two buddies gang- raping Bhoomi.
The screeplay and dialogues sound outdated especially with recent films such as Mom, Kaabil and Maatr.
Add to it Bhoomi's symbolic 'pink' dupatta and for the viewer it's sheer deja vu. And with the villain taunting Arun with corny dialogues such as 'in Dhaulipur it's save the water but in Agra it's save the daughter', one wishes the grown-up Sanjay Dutt sticks to Munnabhai films.

Latest posts by Hoshang K. Katrak
(see all)