Kids have always held a fascination for clowns. In celebrated author Stephen King's 1986 novel, serialised in 1990 and now adapted for the big screen by Argentinian director Andy Muschietti; Pennywise, the Dancing Clown is a macabre supernatural who awakens every 27 years to prey on children.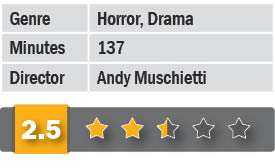 It's October 1983 and seven-year-old Georgie (Jackson Scott) is playing in the heavy rains with a paper boat made lovingly for him by his elder brother Bill (Jaeden Lieberber). A gruesome incident and Georgie disappears down a drain. Eight months later, during summer vacation, we are shown Bill with a couple of friends that steadily increases to six – Beverly (Sophia Lillis), Ben (Jeremy Taylor), Richie (Finn Wolfhard), Stanley (Wyatt Oleff), Mike (Chosen Jacobs) and Eddie (Jack Grazer).
The seven known as, 'The Losers Club', have some sort of weakness as a common trait – one grossly overweight, one stammers, one sexually abused by the father, one prone to asthma attacks and so on. They are also physically intimated by the Bowers gang – a group of high school bullies.
The three credited screen writers and the director try every trick in the book to bring the horror/ supernatural genre alive in this film, but it just isn't enough. The music (by British composer Benjamin Wallfisch) and CGI succeeds in generating a few genuine jump scares and terrifying the audience.
Depending largely on visual horrors, set decoration by Rosalie Board and some taut editing (even at the longish run time of 137 min), part of the 1,138 page novel has been held back for a sequel (as revealed in the final scene), which will feature the seven in mature, adult roles. Bill Skarsgard plays with finesse the role of the ghoulish clown that Tim Curry had made (in)famous in the mini series – yes even that was 27 years ago. The seven kids do a decent job of being at the receiving end.
Take away the horror, the gruesome VFX, the jump scares and what you have is strangely familiar: an Enid Blyton Secret Seven story. Post-interval, the film transports the viewer to underground sewers and a haunted decrepit house where the children engage in a game of hide-and-seek with the elusive clown. But then, gory CGI and a few jump scares cannot- and do not – a horror story make.

Latest posts by Hoshang K. Katrak
(see all)