On 10th September, 2017, XYZ's Bandra group – Rustom's Rockstars (RR) – organized 'Super 60', a senior citizens' evening, at Bandra Tata Block's Jamasp Tata Pavilion. Children between five and fifteen years of age, under the guidance of RR's volunteers, conducted the event commencing with felicitations, followed by refreshments offered to all seventy-two senior attendees.
Young host Sanaz Katpitia introduced Guest of Honor, Er. Noshirwan Tata (Tata Agiary, Bandra) as an educator, and emphasizing on the unparalleled influence grandparents have on their grandchildren and the eve was to honor and celebrate the senior citizens of our community. Following a presentations of various activities by XYZ and RR in particular, Er. Noshirwan addressed the gathering and applauded the young RR members for their effort and dedication in cleaning the Agiary's premises, hoping they would do also offer services to other Agiaries. Games played included 'Forming the Family', 'Sit-Down Quiz', 'Guess the Weight' and all-time Bawaji favorite 'Desi Casino – Housie'. RR youngster, Gandoth Davar's performance on the electric Guitar was applauded by all. The highlight of the evening was the 'Karaoke Singing Competition' which saw all teams sending their best singer to regale the audience with Bollywood and Hollywood melodies.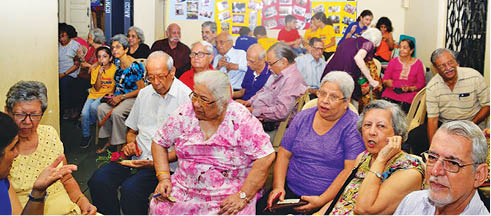 Next was the prize distribution where Er. Noshirwan awarded prizes. Roshni Irani gave the vote of thanks to all for making the event a success including the Trustees and staff of Bai Hirabai Tata Trust and RR's volunteers. The event concluded with dinner, cutting of the 'Super 60 and XYZ' cake and chocolate distribution.
Latest posts by PT Reporter
(see all)