It wasn't long ago in 2014, when Prime Minister, H'ble Shri Narendra Modi suggested to strategize a dynamic plan in the form of a 'festival' that would bring our miniscule yet appreciated community across the world together, and view Udvada as a pilgrim centre. With immense planning and collaborative efforts of 'Foundation for Development of Udvada', 'Udvada Samast Anjuman' and a group of dedicated volunteers, supported by Gujarat Tourism, 'Iranshah Udavda Utsav (IUU)- 2015' materialised as one of premier cultural fests of the Zoroastrian community worldwide that saw over 4000 participations from India and the whole diaspora. Held through 25th to 27th December, 2015, the IUU was inaugurated by Hon'ble Minister, Saurabh Patel, and comprised a culture-rich schedule comprising monajats, short films, religious and comedy skits, music performances and felicitations of young Zoroastrian
achievers.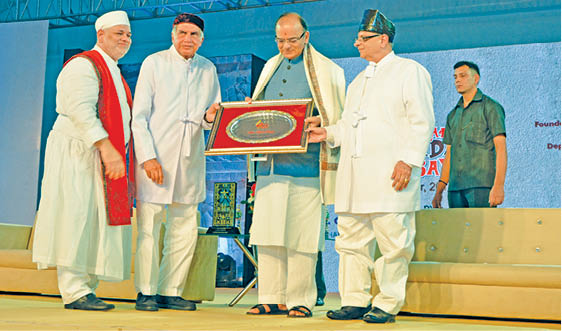 Comperes Viraf Patel, Sheriar Attai and Maharukh Chichgar set the tone for excitement over the next two days offering heritage walks, discussions and workshops; a fun-filled treasure hunt and of course, shopping with over 50 stalls that offered various items related to Zoroastrian food, culture and artifacts. High quality entertainment included electrifying performances by Boman Irani, Shiamak Davar's troupe, Hormuzd Khambata's dance company, the Big Red Bus Band and the superb performances by the children of MEJMT, A.F.Petit Girls' School and 'The Farohars' from Delhi. The 'Vintage Car Rally' was one of the top favourites drawing attendees in hordes, as was the 'Raffle Draw' which gifted away two Tata Nano cars to two lucky winners!
Taking the celebrations to a higher pitch, the IUU concluded with felicitations of our community's success icons, Mr. Ratan Tata and the prime sponsor of the event, Dr. Cyrus Poonawalla, along with the Finance Minister, H'ble Shri Arun Jaitley, filling Udvada with pride and a sense of belonging by all Zoroastrians present there. More than all else, it was the emotions of the audiences which were regaled when they brimmed with pride at the felicitation of Ratan Tata, giving him a standing ovation; or when they were touched to tears on hearing Cyrus Poonawala share very touching moments about his wife. Also, hearing Jaitley speak highly about Parsis and his affinity for our community, left us with a sense of privilege and gratitude for our forefathers. And as the curtains came down on IUU-2015, the man behind the show, Vada Dasturji Khurshed Dastoor promised a bigger and even better festivities and celebrations at the next 'IUU-2017', with lots more in store!
With 'Iranshah Udavda Utsav-2017' just two months away and 1500 registrations already, the Community can look forward to yet another three days of bonding with our fellow Zarthostis from all over India and the world, revisiting our roots and soaking in our Zoroastrian culture – all laced with fun and entertainment! So, block your dates for 23rd, 24th and 25th December, 2017, for this Zoroastrain Mega Event to be held at our very own Udvada Gymkhana Grounds, fostering and celebrating the spirit of Parsipanu and 'Hamazor' (unity)!
More details of the IUU program to follow soon in the upcoming editions of Parsi Times, so stay tuned.
.
For registrations and information, please visit the website http:///www.iuu.net.in/ Register at just Rs.2,000/- until 31st October, 2017
Latest posts by Delaveen Tarapore
(see all)