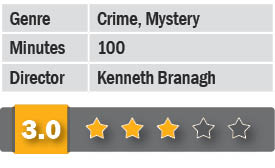 A single clue is what is proffered in the middle of the film, based on the enigmatic maestro Agatha Christie's 1934 novel by the same name. The self-proclaimed 'greatest detective in the world' – the fastidious and mustachioed Belgian Hercule Poirot (played by director Branagh himself) – is bound for London aboard the famed Orient Express which shuttles between Istanbul and Calais.
Desperately seeking rest after a slew of cases, the detective is jolted out of his reverie when a crafty art-dealer Ratchett (Johnny Depp) is found murdered with multiple stab wounds. For the true-blooded sleuth, all the dozen occupants of the coach are suspects – and that includes a lady (Michelle Pfeiffer), a Russian princess  (Judie Dench), a German professor  (Willem Dafoe), a missionary  (Penelope Cruz), a doctor (Leslie Odom Jr), his companion (Daisy Ridley) and Ratchett's assistant  (Josh Gad).
And since every suspect seems to have a motive, the film becomes a vehicle for Branagh to indulge in some Peter Ustinovish theatrics. Branagh does a far better job in front of the camera than behind it. Despite the star-studded cast, it's Branagh who's in every frame of the film which begins fairly well with the detective solving a case at the Wailing Wall in Jerusalem in 1934.
The rest of the film, however, fails to live up to that promising precursor. The few action scenes and the CGI effected snowy locales lack conviction. This film is not the first adaptation of the novel, and for those who've neither watched the earlier works nor read the novel, this should be a decent watch, especially with a follow-up promised during the closing stages of the film.
Dame Agatha Christie had once (in)famously described her celebrated  sleuth as an 'egocentric creep'. Branagh's portrayal does, indeed, attempt to live up to that delineation.

Latest posts by Hoshang K. Katrak
(see all)