Return to Roots, the five-year old Zoroastrian youth-oriented global initiative is gaining momentum worldwide, with an increasing number of Zoroastrians showing an interest to participate in the movement which seeks to strengthen community identity amongst Zoroastrian youth the world over, by reconnecting them with our culture and past glories. Launched at the North American Zoroastrian Congress in New York in 2012, the Return to Roots Program aims to bridge the gap between the Zoroastrians in the diaspora and their ancestral communities in Iran and India. It fosters community links and identity by organising small youth group trips (around 10 days) where participants, fondly called 'fellows', explore various significant Zoroastrian historical, religious, cultural, and archaeological sites in India over short trips.

In addition to getting support from the youth in terms of participants and volunteers, RTR also receives global support from Zoroastrian Associations, cultural institutions, private donors, volunteers, and corporate partners. The RtR alumni comprise fellows from USA, UK, Canada, Iran, UAE, India and Pakistan.They undertake responsibilities including planning the logistics of the trip, fundraising, outreach to potential participants and hosting the trips. They comprise people of varied interests including artists, paramedics, lawyers, etc., but each group promptly goes from being strangers to forging genuine, lifelong friendships. One of the most positive outcomes of these trips is the fostering of connect between Parsi and Irani fellows, who discovered how much they shared and could learn from each other about their different experiences as young Zoroastrians in the diaspora. All are encouraged to respect each other's views, beliefs and life experiences.
Under the leadership of Co-Chairs, Aban Marker Kabraji and Dr. Shernaz Cama, the current Return To Roots trip from December 22, 2017 to January 2, 2018 will have participants visit places of interest and Zoroastrian relevance in Mumbai, Nargol, Sanjan, Dahanu, Gholvad, Udvada, Navsari, Surat, and spend a full day touring the villages of Vansda and other areas around Navsari. Highlights include visits to the Iranshah Udvada Utsav where they will participate in all activities, visits to the Meherjirana Library, Esplanade House, Doongarwadi, Parsi General Hospital and many other places.
RTR's fellows return to their communities globally and share their experiences with local associations, thereby helping create future participants. The organizers have made a conscious effort to run a trip to India annually in order to keep the momentum of these trips and the community engaged. Currently RTR comprises around 50 Fellows who are alumni, and stay connected via various social media platforms, undoing the geographical challenge of distance. Some of the volunteers include Natasha Karanjia and Ruxshin Cyrus Dinshaw from Karachi, Pakistan. Ruxshin currently works at the International Union for Conservation of Nature (IUCN) and Natasha works at the Channel Planning Division at one of Pakistan's largest telecom operator; Kayras Irani from British Columbia, Canada from the medical profession; and from Mumbai, fitness consultant Zubin Gheesta and Sheherazad Pavri who is a priest serving at Banaji Limjee Agiary.
Says Arzan Wadia, Program Director, RTR and Editor of the leading Zoroastrian portal, parsikhabar.com, "The Zoroastrian Return to Roots program fills a void that has existed for the longest time, and has had great success in bringing Zoroastrian youth from all over the world to India. These trips enable the youth to discover new facets of their Zarathushti identity and see the Parsi Zarathushti way of life in India. The experiences and the knowledge they take back with them enables them to be ambassadors for their community and their religion in the communities they live in and fosters friendships that will last a lifetime. To me it is one of the most fulfilling projects I have ever been involved with in my life!"
The greatest reward of this volunteer-intensive program is seeing fellows return as organizers for future trips. The trip itself will always be a core part of the RTR operation, it serves as the catalyst for participants to discover and deepen their connection to the Zoroastrian community. The way forward also includes expand on the existing idea and to take RTR to Iran in the near future. The possibility of extending the upper age limit for future trips to include community elders is also being considered.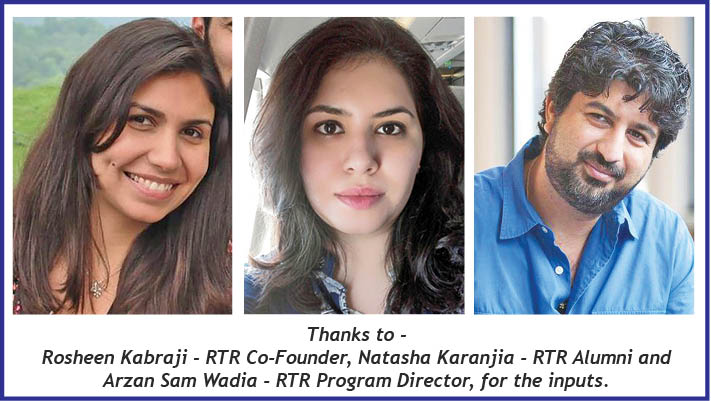 .
RTR's Message to the Community: "We believe in uniting the entire Zoroastrian diaspora. We are a small community and instead of focusing on our differences, we should try and work together for our longevity and for preserving our culture."
Latest posts by PT Reporter
(see all)