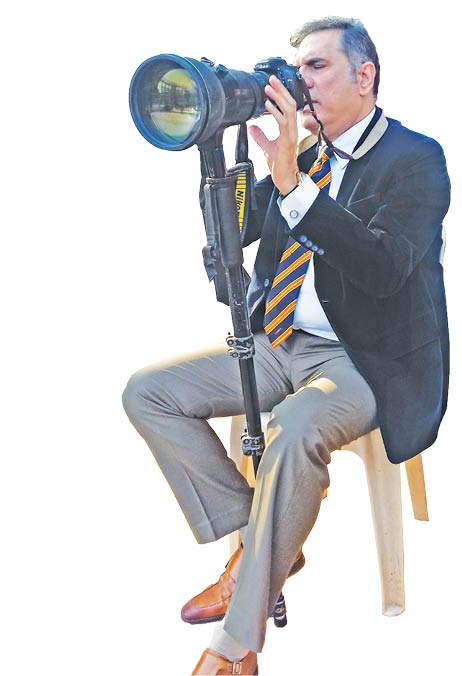 The stage was set for the Giles Shield Cricket Tournament finale on 8th January, 2018 at the iconic Wankhede Stadium in Mumbai as Rizvi Springfield (Bandra) faced opponents Don Bosco (Matunga) where the former won the final on better quotient. In all the huddle that took place on field before the ultimate clash, there was one great personality in particular, who stole the show. He was none other than our dynamic Boman Irani – actor extraordinaire, photographer and singer, who gracefully consented on taking the time from his busy schedule and was Chief Guest for the opening ceremony. Kind, easy going, highly respected, humble and down to earth, Boman Irani obliged every person who came to him for a photograph or selfie!
Irani first inspected the pitch, then mingled with the groundsmen who were still mesmerized standing alongside him and finally walked with both captains for the toss. Speaking impressively and being his usual jolly self, aapro Boman spoke about his love for cricket and photography and lots more in an interview with Parsi Times Sports Reporter, Binaisha M. Surti, covering the Giles Shield Cricket Tournament finale
Talking about how his love for cricket developed in his formative years, Boman said "As a young boy I would read a lot about the history of the game. During our time, sports was encouraged a lot at the school level and I would see a lot of photos back then. I still remember when the first cricket match was aired on television, there were forty people sitting in one house and watching. Being a part of history too, I watched the first ever Test Match at the Wankhede Stadium in 1975, between India and West Indies. We lost that match but Eknath Solkar had scored a century in that game."
Sharing his taking to photography, Boman recalled, "It had a lot to do with the photographs that I would see. I even sat right here near the sight screen at the Wankhede and shot a Ranji Trophy final. It is different seeing sports on video and sports photographs. That moment in a photograph becomes so iconic when one captures all the majestic beauty of a sportsman's ability, prowess, talent and that excites me. So I used to do a lot of sports photography. I could not play too much so I decided to pick the camera instead."
"I have great childhood memories of when my school, St. Mary's played in the Giles Shield finals a few times. We had two teams that had won. Those days the games were held at gymkhanas. School boys deserve to play on the best of pitches and grounds and the stands should be filled up with people giving them support," he reminisced.
Sharing his thoughts on the 14-players-a-side format, generated by Sachin Tendulkar, enabling more cricketers to play, "I think Sachin being the wise man that he is must have thought this through. Maybe he felt that when he played, a few of his colleagues did not get an opportunity. Those kids who do not play are otherwise sitting on the benches. This comes from Sachin, the Giles Shield player and he is using that experience for a lot of youngsters."
"Photography was the turning point in my life, where I took up something creative, and the camera opened a lot of doors for me," says Boman. As a photographer, he would stand near the sea facing side of gymkhanas, clicking pictures of young cricketers. "I was doing a Giles Shield match at Hindu Gymkhana. Back then I did not have a long camera lens, so I used to move closer to the batsman on the ground to click my pictures. I would go dangerously close almost disturbing the field, take pictures and then run back. Once while I was doing that, Eknath Solkar came towards me and shouted out and I immediately apologised. He said please come and shoot, as I want the photographs. Two days later I went and delivered it to him."
"Whatever one takes up in life, there are no shortcuts as glory comes only after all the hard work. People get enamoured by watching glorious moments of their icons, but those moments have a history of hard work, blood, sweat and tears and eventually they can pump their fists. One has to go through the road of trials to reach their goals," signed off the great man with great words of wisdom!
Latest posts by Binaisha M. Surti
(see all)