Celebrating 100th Avan Roj Humbandagi At Bhikha Behram Kua


.
Over the last nine years, every month, our community members come together at the sacred Bhikha Behram Kua to attend a Humbandagi held on Avan Roj (Shahenshahi calendar). On 23rd January, 2018, this blessed and unifying event commemorated its centennial celebrations, performing the hundredth successful Humbandagi marked by a jasan ceremony performed by Er. Burjor Tarachand and Er. Rukhshad Panthaky, followed by the 100th Humbandagi, led by Vada Dasturji Khurshed Dastoor.
Initiated in 2009, by two of our young, dynamic community members – Perzon Zend and Hoshaang Gotla – this practice which started out with an attendance of around 20-30 worshippers, has blossomed into a divinely delightful movement in its own right, with nearly 200 community members attending the recent Humbandagi. Community members, old and young, men and women, come from near and far to partake of the auspicious occasion every Avan roj, making the 100th Humbandagi that much more special and celebratory!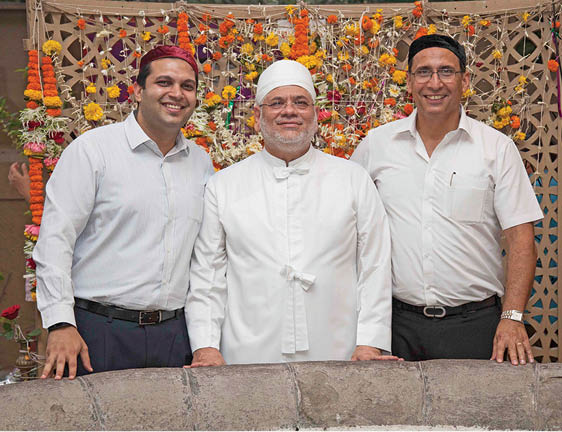 With the jasan slated for 5:00pm and the Humbandagi at 6:00pm, Hoshaang Gotla welcomed the crowd, expressing gratitude to the devotees, scholars and priests, Trustees of the Bhikha Behram Well, and the donors who generously finance the maintenance of the well as well as provide light snacks for the gathering. There was an elevated sense of excitement as our very own Vada Dasturji Khurshed Dastoor of Udvada led the prayer and later remarked that the 100th Humbandagi was a huge achievement, thanks to the proactive efforts of Hoshaang and Perzon, as he felicitated them. In his address, Vada Dasturji Khurshed emphasized how community prayers encouraged faith, pride and motivation within the community. He further urged all to follow the tenets of our glorious Mazdayasni Zarthoshti religion, going on to explain the importance of how wearing our prayer cap/scarves contains the good energies within ourselves, as also how the sudreh and kusti protects us at all times. He stressed that it is only by praying together with our families, that the legacy of our faith can be imparted to future generations. He motivated all to teach their children short Nirangs and also advocated the importance of caring for our fire temples, priests and care-takers of our agiaries.
"The first Humbandagi was held on Avan Roj in October, 2009, and the numbers are only growing, with more youngsters and children attending the ceremony, especially on weekends. Over the last eight years, people have been donating towards maintaining the cleanliness and facilities at the well and it is amazing to see people gather every month. Even our religious scholars whole-heartedly agree to deliver lectures for our community's well-being," said Hoshaang who added that the composition of the Humbandagi was made simple with interpretations so that people understood what they were praying.
Speaking to Parsi Times, Perzon said, "I am truly impressed with the fact that the Zoroastrian community, when given a chance to show solidarity, is coming together, thereby staying true to our motto, 'The community that prays together, stays together."
On the occasion, gratitude was also expressed to thank religious scholar and priests, Er. Yazdi Aibara, Khojeste Mistry, Noshir Dadrawala, Er. Dr. Ramiyar Karanjia, Er. Dr. Pervez Bajan, Vada Dasturji Khurshed Dastoor, Er. Pervez Karanjia, Er. Darayesh Katrak and others who had attended the Humbandagis and delivered religious sermons every month. In the true philanthropic spirit of our community, the centennial was also celebrated by providing lunch for the residents of Parakh Dharamshala.
.
.
.
---
Photo Credits – Sarosh Daruwalla
Latest posts by Jamshed Arjani
(see all)