Us Bawas are born with a default love for music – the kind of music may differ over generations, but our love for it stays intact. But, there's music… and then there's magic. The talented ones make music – engaging the sensibilities of the audience; the blessed ones make magic – where the audience becomes one with the music, taken over by the irresistible urge to get on their feet, dance and sing along, and lose themselves in musical reverie! There's a special few band of people who can convert music into magic, and that, dear readers, is exactly what sets 'The Big Red Bus' apart from the rest. When the dynamic, talented and blessed boys behind the Community's most-loved band, 'The Big Red Bus' (TBRB), get on stage, there's anticipation followed by hysteria, followed by unending cheers from audiences all across, always ending with the 'One More' chant, staunchly refusing to let them end the show! What's amazing about TBRB is that the band is as loved by the teenie-bops as well as cherished by the oldie-goldies!
Been Rocking Since 2005
This is one of those stories that most of us dream of in our youth – to be in a band and rock the heck out of life forever more… A quick reality check from TBRB reveals there's as much sweat, dedication and toil as there is fun and bonding. TBRB has been on the road for over 12 years now, going public with their first ever gig at the erstwhile cool haunt of the 'nearly-with-it' crowd – Razzberry Rhinoceros in early 2006, and has since performed all over the city and the country for events including the Bandra Festival, Kaala Ghoda Festival, World Zoroastrian Congress, Iranshah Udvada Utsav, Battle of the Bands, Holiday Program for Youth, etc. TBRB brings to life some of the Bawas' all-time favourites belonging to soft rock, classic rock and the evergreen rock and roll genre of music.
TBRB lives by and proves true its philosophy, "only if you enjoy what you do, will others enjoy what you do too!" Their mission is to rock the stage every time they step foot on it and deliver jaw dropping, adrenaline pumping, hair raising, feet tapping performances catering to all demographics. And boy, do they achieve it!
The Men Who Drive The Big Red Bus!
Did you know that most of the members of TBRB are school friends? And that most of them have steady jobs outside the band as also steady wives/partners? Let's start with the main singers – Hormuz Ragina and Sarfaraz Irani. Hormuz is a senior member of the marketing and corporate communications team at Eureka Forbes and is married to Gulistaan, while Sarfaraz is the doyen, managing the community's very own 'Milky Way' – Parsi Dairy Farm, with wife Annahita. Rhythm guitarist Peshotan Kapadia, a management strategy consultant and chartered accountant, and Lead Guitarist Meheryar Tata, also a chartered accountant, valuations expert and avid equity investor, have both been academic super-achievers and at one time co-partnered the enterprise 'Eazy Leazy'. Ayesha and Tushna, their respected spouses, like Gulistaan and Annahita, have been extremely supportive and understanding of the demanding schedules. Lawyer by day, Jahangir Panday transforms into bass guitarist by night – his partner Sabah doesn't mind too much as she totally loves the band! Full time musician, Kersi Gazdar is not only a brilliant pianist and full time  music teacher but he is also a professional opera singer who took over the baton from the talented Hayat Sadri, currently separated from the band, only geographically, pursuing deep sea diving. And of course, the very renowned and very talented writer and director of the highly lauded musical, 'Gandhi', artiste extraordinaire Danesh Khambata, gives the band its beats as the drummer.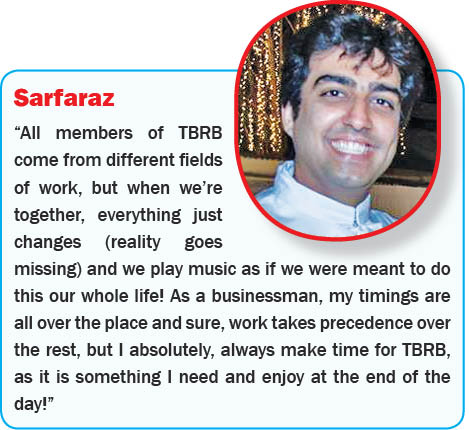 Hormuz, Sarfaraz, Peshotan, Danesh, Jahangir and Meheryar studied together at St. Mary's ICSE. Inspite of their diverse inclinations and skill-sets – ranging from karate to cricket, debates to dramatics, singing to dancing – the single thread that brought this group together was their undying love for music. In 2005, Hormuz, Sarfaraz, Peshotan and Meheryar got together to have a casual jam session. Like most fresh-out-of-school kids, they dreamt of being in a rock band. And worked towards it. With the vocals, rhythm and lead guitars in place, they scrounged for a drummer. Danesh, who at that time was drummer with the band 'The Other People' got on board and soon they found a pianist in the lovely Hayat and a bass guitarist in Jahangir. Kersi, their most recent find, has repeatedly proven his musical excellence.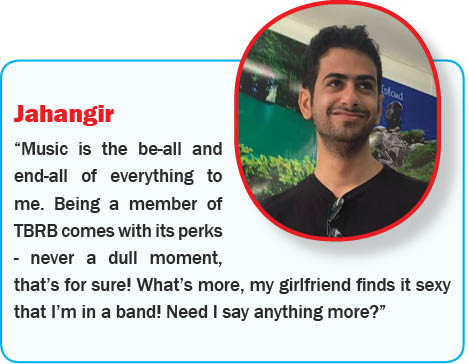 Yes – they were young, yes – they were ambitious, yes – they wanted to portray themselves as the epitome of coolness which is why they initially named the band 'SCARR' (abbreviation for Sex, Cocaine, Alcohol, Rock 'n' Roll). Fortunately, or unfortunately, the name failed to see the light of day as it didn't suit any of their personalities… then again, I doubt, with a name like that, if any of their parents would've attended their shows!
Then, one day, still nameless, as they practiced for their first gig at Razz, Danesh randomly suggested the band name 'The Big Red Bus' and voila The Big Red Bus was born! "No one knows why he chose the name and ironically no one knows why everyone agreed on that name… but it's a name that we stuck by for over a decade and today, it's a name that brings a big, broad smile to all our fans!" says Hormuz, who probably ranks second only to the Queen (Aapri Rani) when it comes to being fawned over by the Community!
There is absolutely no denying that 'Bawa-Connect' when an All-Parsi band performs for a Parsi audience! "We take full advantage of it!" quips Hormuz. "It's fun occasionally pulling the legs of our fans, watching our spouses groove and sway to the music while we perform, seeing the twinkle and joy in the eyes of our family and close friends while we are on stage, but mostly it's addressing some of the most outrageous requests of some bawas and bawis which form the most enjoyable perks of performing for our bawa audiences.
Message From TBRB To The Community:
The Parsis are literally a handful of jolly, witty, talented, intellectually superior (well most of them) people who are loved by everyone across the world. Let's not quarrel over petty disputes and instead, like our music teaches us, let's live in harmony. Give peace a chance…
To the youth who dreams of being in a band, please understand that TBRB is the culmination of the phrase, "if you want something really bad, you'll do anything to get it." We all work long hours, we all have families, we all have other commitments, but when it comes to our passion – music – we are committed to our practice which would start late at night after work and go right into the wee hours of the morning. Passion without commitment remains an unrealised dream…
The Big Red Bus would like to take this opportunity to thank all our well-wishers who have attended our shows and encouraged us along the way. We hope you will continue to shower us with more love in the years to come! A special shout out to our 'so-called' band manager Huzan Forbes, the evergreen Dee (Diana Marfatia) and our biggest critiques – Samira and Neville for your motivation and support throughout our journey!
Latest posts by PT Reporter (see all)