The community gathered on the pier at Radio Club to celebrate the auspicious occasion of Avan Mahino Avan Roj on 24th March, 2018 with a Jasan ceremony led by Vada Dasturji Khurshed Dastoor and performed by twenty-three priests, followed by a Humbandagi.
Organized by the Bombay Zoroastrian Jashan Committee and attended by Kersi Commissariat, Kersi Limathwalla, Bakhtawar Merchant, Saroosh Dinshaw, BPP Trustees Zarir Bhathena, Armaity Tirandaz and Viraf Mehta, the event commenced with a monajat sung by Jamshed Kotwal, followed by Pearl Mistry of Jiyo Parsi explaining the second phase of Jiyo Parsi initiative that extends crèche and child care assistance, senior citizens honorarium for childcare and medical assistance for dependent elderly members.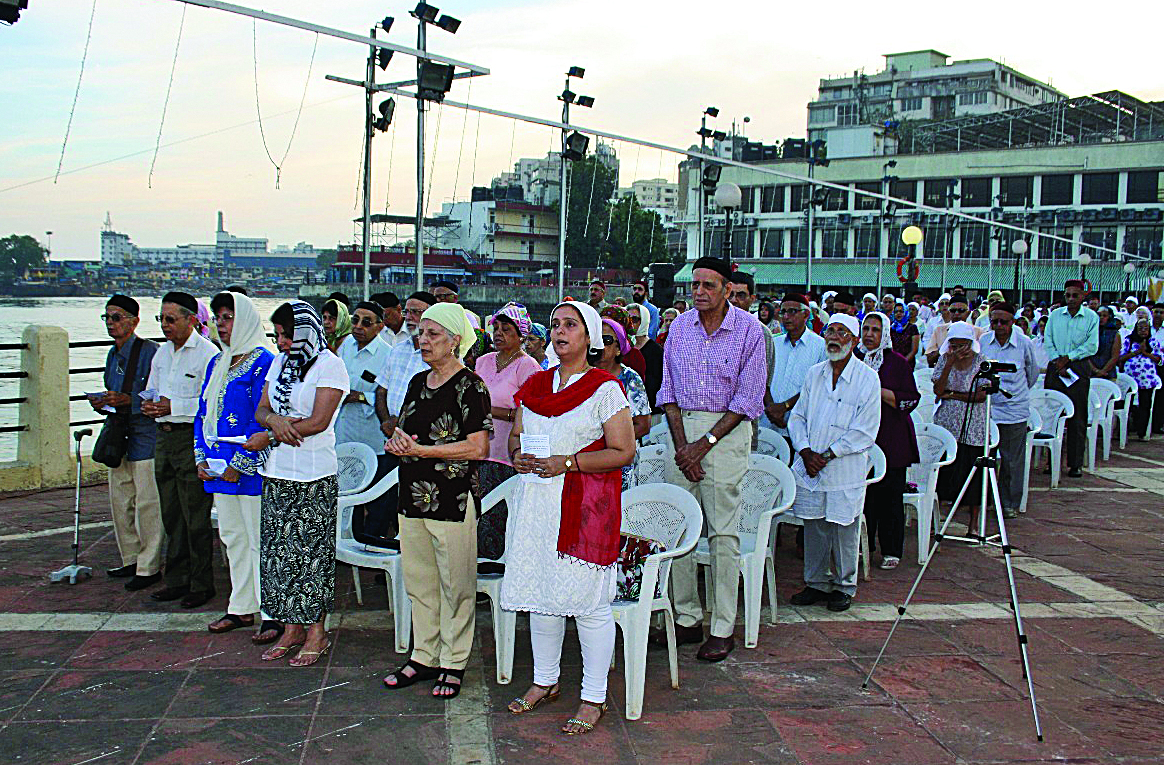 Kersi Limathwalla delivered the welcome address, followed by Zarine Commissariat revealing the essence of how this event was conceptualised and thanked all the supporters of this event over the years. She further extolled Vada Dasturji Khurshed's academic and religious achievements at the national and global level, followed by felicitation of all the dignitaries. In his message to the audience, Vada Dasturji Khurshed praised the Indian Government's efforts to promote and help our community increase our population, and also praised various efforts undertaken by the Zoroastrian youth today, saying, "These efforts would only pay dividends when we bring peace and harmony which is the essence of the Zoroastrian community. Quoting the lines given by Prophet Zarathushtra in the Gathas, 'Listen with your ears open, See with your eyes wide open, think and then decide, man for man, by himself'." He concluded his address by blessing the gathering.
Keynote Speaker, Er. Darius Pervez Bajan enlightened the gathering about 'Zoroastrianism – A Living Religion' and emphasized that religion is the most vital part of our spiritual and physical existence. He asserted that every step human beings take in life lead either to Heaven or hell and man should be aware of the laws of the material and Spiritual world. He said that unstinting faith in God and in our Prophet gives us courage and leads us to triumph in the midst of adversity. He said, "Zarathushtra gave humanity the Gathas to awaken in man the higher consciousness of the manifold relationship with God and the Universe, to inspire in man the living faith in God. By abiding by the path of 'righteousness, we shall be practicing true Zoroastrianism."
The event concluded with a vote of thanks by Zarine Commissariat, rendition of 'Chhaiye Hame Zarthoshti' and more community songs sung by Jamshed Kotwal and Sanober Reporter.
Pics Courtesy: Bomsi Tavaria
Latest posts by Jamshed Arjani
(see all)